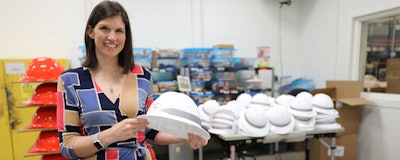 From her childhood days, Wells Bullard was enamored with the Bullard family business established by her great-great grandfather Edward Dickinson Bullard in 1898 with a mission to protect workers.
The company originally supplied carbide lamps and other mining equipment to gold and copper miners, but in 1919 patented one of the greatest safety devices in modern industrial history, at the time called the "Hard Boiled Hat" and today known simply as the hard hat.
This year Bullard is celebrating the 100th anniversary of the original hard hat, which was the creation of Wells Bullard's great-grandfather E.W. Bullard, the founder's son, who returned home from World War I with the vision to combine his army helmet experience and the growing need for better worker head protection.
Wells, a fifth generation Bullard, was named CEO of the company in 2017—the first family member at the helm not named Edward. Mfgnet spoke with Wells about the company business, her passion for manufacturing, and her experience as a female leader in a traditionally male-dominated industry. The following are edited excerpts from that interview.
Mfgnet: How and when did you first enter the family owned business and what was the journey like for you leading up to becoming CEO?
Wells Bullard: When I was growing up my father was CEO so I was exposed to the company my entire life. What my dad did for a living was protect people, save people's lives, and ensure that they could go home at the end of the day. I always was drawn to our mission.
Manufacturing moved to Kentucky from California in 1972 and my family moved in 1989 when I was 8 years old. That's when I was able to spend a lot more time visiting the manufacturing floor. My favorite places were the quality lab and our pad print operation where we customize hard hats and firefighter helmets with logos.
A lot of the workers were very kind to me as I walked through and asked a million and a half questions about what they were doing.
In the summer of 2007, I joined Bullard as a team leader in our head protection production area where we made all of our hard hats. I loved every minute of it.
Mfgnet: It's somewhat unusual for businesses to stay within a family for even 3 generations, let alone 5. What's the secret to keeping Bullard within the family?
Wells Bullard: It's a real commitment to independence. We're able to think very long-term as a family owned business. We don't have to make short-term focused decisions for the quarter or half year. You get to really think how does this impact us for the long term.
There's a whole lot of planning and preparation to ensure that Bullard can continue for future generations. That's something I'll have to be thinking about throughout my whole career. How do I make sure that we have a sustainable business to steward forward into the future?
Mfgnet: As fifth-generation leader, what advice, if any, did you receive from members of the previous generations, either in person or through history?
Wells Bullard: My parents raised my brother and me to know that we are not entitled to work at Bullard, nor are we expected to work at Bullard.
I'm the fifth generation but I'm the first non-Edward Bullard to lead the company. They were all Edward Bullards before—in fact, my brother's name also is Edward. He's very proud of what we do, but it's not his passion.
For me, who was passionate about working at Bullard, it became a choice rather than an imposition, so I didn't have to feel pressure. It gives me a lot of freedom to be authentic in my desire to lead the company, authentic in how I communicate with people, and about my complete and utter passion for what I do here.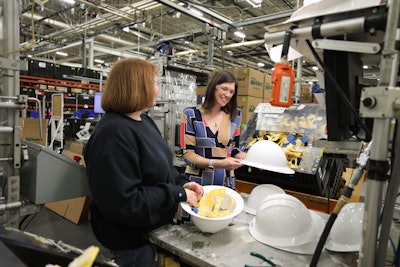 Mfgnet: The industrial sector traditionally has been male-dominated. As a woman leading a major company in the field, have you encountered any challenges since taking over the helm at Bullard?
Wells Bullard: It's a male-dominated industry, but no, I have not faced any particular challenges as a woman. Being a woman is just another thing that I bring to the table. It's just a different perspective. I encounter a lot more women day-to-day with our customers; there's a lot more diversity of all kinds.
I definitely see more women in the manufacturing space all the time. You want to have different opinions, different ideas, people with different experiences, different backgrounds, and so I think it's great.
Mfgnet: With such a rich company history, do you keep any special treasures on hand dating back to the early days?
Wells Bullard: Absolutely, one of the coolest things is a hard hat worn in the early 1930s by one of the gentlemen that worked on the Golden Gate Bridge in San Francisco—the first construction site that required the use of hard hats and they were all Bullard hard hats. It's a very special memento and that bridge is still a customer today.
Mfgnet: Bullard, of course, is world famous for the creation and ongoing development of the industrial hard hat and subsequent emergency protective gear. Please describe the benefits of today's more advanced hard hats and what advancements are around the corner.
Wells Bullard: Recently, Bullard launched a product called the AboveView, which is a hard hat that solves user needs to see and protect them from above head hazards.
Also, there's definitely technology coming into the space and we just have to be careful how that technology is leveraged in terms of making sure it is adding value and helping to keep them safer.
In terms of trends in safety, we're seeing people think a lot about comfort, think about ease of use, also think about style. For the comfort piece, we always say around here that personal protective equipment is only effective if it's worn. So it has to be comfortable, because if it's not comfortable somebody will take it off at a point in time when maybe they can be exposed to a hazard and nobody wants that.
Then you want to think about ease of use. You want to make it easy for people to use the product correctly and safely and to make it so that it adjusts well to different needs throughout the day or throughout the shift
With today's hard hats it's important that ratchets are very easy to use so people feel comfortable that the hat is secure, and also that it is easy to integrate accessories and necessary protective gear.
Mfgnet: How competitive is the industrial protective gear market and are there any special steps Bullard takes to stay ahead of the competition?
Wells Bullard: Absolutely, the important thing is just watching users, listening to them, observing how they're doing the work, what they need for protection, and how to solve those problems. That's the advantage we try to focus on.
Mfgnet: Last summer Bullard opened the Bullard Center for R&D and new product development, marketing, and globally shared resources. Please tell us more about the facility. Is it meeting expectations so far?
Wells Bullard: It's been fantastic. We're in growth mode here at Bullard and we needed to accommodate more manufacturing space at our location so by relocating some resources it allowed some additional space. It also helps attract and retain talent here in Lexington because we're so close to the university, which has a very strong engineering department. We're able to attract and retain talent and also work with the university. It's definitely met our expectations so far.
The graphics team, the marketing communications team, product management, and product development are all in the same space. It creates a collaborative work environment where people are aware of what's going on and are looking for ways to help support one another and help add value to the solutions.
Mfgnet: Bullard recently expanded its facility in Remagen, Germany. Please tell us about the project and plans for the facility going forward.
Wells Bullard: In order to better serve our customers in Europe we have in-sourced some assembly operations for European products. The European market has some specific needs—particularly with fire helmets and other products.
Mfgnet: Are you looking at expansion to other areas?
Wells Bullard: We're looking to be where our customers need us to be. We're in a transformational growth time, so in terms of growing the footprint, that's to be determined, but we're definitely developing new products.
Part of the new Bullard Center is to accommodate our growing product development team because we're very focused on meeting our customers' needs today, tomorrow, and then for the long term.
Mfgnet: What new products might be on the horizon? Are you contemplating entering new health and safety or emergency responder protection markets?
Wells Bullard: What I can tell you right now is that we've just launched a group to augment our core products.
Cancer has become a really big health hazard for firefighters so we launched the Bullard Decon (decontamination) Cloth. We're using CDC technology to remove debris, particles, and heavy metals from the skin of firefighters after they come out of a fire.
A structural fire today is very different from a structural fire 50 years ago or even 20 years ago. Back then, there were real wood furniture items and real non-synthetic materials. Now our houses are full of synthetic "wood" that burns hotter and off-gas different chemicals. It's really quite scary in terms of what firefighters face when they are going into a structure trying to protect life and property and what they are exposing themselves to.
There's still a lot of research going on in this area, but it seems pretty clear that cancer prevention is a big concern and one big way that we can help is by removing some of those carcinogens from their skin as quickly as possible.
We also recently launched a Bullard Cares Kit, which adds removable soft goods to the fire helmet. It has a mesh laundry bag with extra soft goods that you can swap out, so that when you are in a fire you can quickly take off the brow cover and ear/neck protector, toss them into the mesh bag for washing, and already have a clean one in your helmet for the next time.
Mfgnet: Is there a sixth generation Bullard already learning the company business with an eye for a future leadership position?
Wells Bullard: I have the same approach that my parents had with us, which is that nobody in the sixth generation is entitled, nor are they expected to work at Bullard, but if they're proud of it and if it is their passion, what a beautiful thing.
But my job as the fifth generation currently leading Bullard is to set the company up in the right way for sustainable, organizational leadership and growth regardless of whether somebody with the Bullard last name or Bullard DNA is in the position.
We can still move this forward into future generations regardless of that.
Mfgnet: What advice would you give future generations, male or female, who might be interested in manufacturing careers?
Wells Bullard: I think manufacturing is one of the most rewarding industries to be in. You actually get to make things that make a difference in people's lives. So my advice would be to find something you love to do. It can be a function or it can be a specific industry or something else, but find something you love and then find a way to do that every day.
Manufacturing offers such a wide variety of opportunities for people coming into the field because we make things. We make the things that affect people's lives and that's really an empowering thing to do.
Mfgnet: Made in USA: How important is that to your domestic business?
Wells Bullard: To our customers in the United States it's a really big deal. We're making products for firefighters, utility workers, oil and gas workers, construction workers, for other manufacturing applications, and for pharmaceutical manufacturing.
There's a real benefit for our customers with our products being made in the USA from a quality standpoint, with regard to how quickly we can ship and deliver our product.
Manufacturing in the United States obviously has gone through evolutions over the years and we're very proud to manufacture here. We do it really well and leverage that as a competitive strength.
A shorter version of this interview originally appeared in the March/April 2019 issue of Mfgnet.