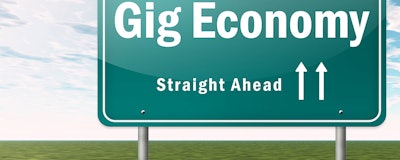 The gig is up—in the manufacturing world, at least.
What I mean is that the notion of a ubiquitous gig economy—where companies hire employees on a short-term or project-based basis—isn't entirely accurate. At least not in manufacturing, where several factors are pushing back against the tailwinds of the gig economy while inevitably adapting to the changing times.
After nearly two decades of recruiting executives to manufacturers of all types and sizes across the U.S., I've learned that manufacturing is all about continuity, stability and continuous improvement. Long-term jobs are conducive to that, and where there is constant turnover or the fear of attrition, companies struggle to stay productive. In fact, some candidates are drawn to the stability that manufacturing companies can provide in this fast-paced, gig economy world.
It's also important to remember that today's lean manufacturing culture is rooted in teamwork and commitment to the process. So, candidates with a history of jumping from company to company might disrupt the culture and the mission.
Additionally, leadership development and bench strength building is also threatened and compromised with candidates who have a tendency to job hop.
All of this isn't meant to say there is no place for a gig mentality in manufacturing. Many manufacturing companies, in order to truly scale and catch up to the technology demands of their business, will need to identify and secure talent at all levels that help them meet their demands in real time. To keep that competitive edge and adjust to natural workforce trends, they may need to employ temporary staff or project-based hires.
Another factor in favor of gig in manufacturing is the close tie between the industry and information technology. IT requires a constant need for innovation, upgrades and cutting-edge software advances. And while manufacturing changes are less frequent, best-in-class companies know they must stay ahead to build their businesses.
What does all of this mean for candidates looking to move into manufacturing roles? I've found that staying in a position for three to five years is ideal. Any sooner might be held against a candidate because they didn't stick around long enough to experience complete cycles in production or make a meaningful enough impact on the lean culture of a company.
However, there are ways to get around this. In the event candidates have had shorter stints than the industry prefers, they should explain their intent was to get a wide variety of experience, to benefit from being exposed to different cultures, teams, processes and diverse product lines, and to gain exposure to different management styles, technologies and ways of driving business forward.
Having the perfect skillset will also help exponentially. Job hunters should be able to demonstrate continuous improvement and proven leadership, knowledge of lean manufacturing and supply chain management, and a track record of handling multiple responsibilities at once. Those that do will be prime candidates for manufacturers looking to expand in the gig economy, regardless of whether they're embracing all of its principles.
Ultimately, manufacturing may not end up being an outlier of the gig economy, but instead charge forward to define its own unique path tied to this new world, one that leads to great efficiency while meeting their employment and production needs. As long as manufacturing companies are developing and producing quality products that are in demand with consumers, and are constantly looking for ways to improve and scale through talent acquisition, they will not only stay competitive in this gig economy but also thrive.
Charlie Wilgus is the Founder and General Manager of Lucas Group's Manufacturing & Supply Chain Executive Search Division.