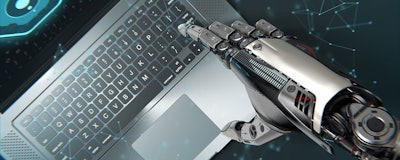 In the journey towards Industry 4.0, manufacturers are embracing new technologies at an accelerated pace. Cloud computing, predictive analytics, and advanced scheduling and planning systems (APS) are high on the target list for their ability to integrate with advanced equipment, automation and robotics, and IoT platforms. Bringing these technologies together and synchronizing data across platforms can enable the efficiency and analysis needed to drive down the cost of production and compete in the global economy.
No doubt, these advanced technologies can bring transformative change to production in terms of efficiency and quality, but manufacturers would be remiss to ignore the transformation that automation can bring to the administrative processes that keep the enterprise itself running.
Departments like Finance, Human Resources, and Legal may not be directly involved in production, but they serve a vital purpose in ensuring vendors are paid on time, that employee information is secure and safety policies are in place, and that the enterprise is protected from regulatory and compliance risk. However, manufacturers have historically focused innovation and IT investments on production use cases, leaving these functions bogged down in stacks of paper and physical file folders, and slow, manual processing at risk of errors and inaccuracy.
Multiple IT vendors offer solutions built to serve each department's automation needs, but sourcing solutions from multiple vendors can create a sprawling IT nightmare. Multiple IT solutions in each department means a more crowded IT footprint and additional resources needed for maintenance and training.
As an alternative, organizations can expand their digital transformation efforts beyond the manufacturing floor with flexible and scalable solutions like content services platforms. Content services platforms offer a wide range of process automation and document management capabilities that can be configured to serve multiple departments and processes with the same tool. These platforms also easily integrate with existing IT investments like enterprise resource planning (ERP) and human capital management (HCM) systems to synchronize data and report on performance in real time.
Examples of administrative processes that content services can modernize include:
Accounts Payable (AP) – As manufacturers grow and globalize, so will their invoice volume and the complexity of their AP processes. But cost pressures keep AP headcount and resources at a minimum, risking longer payment cycles and possible late fees and penalties from vendors. Content services platforms can digitize the invoice management cycle, allowing AP teams to process more invoices in less time, with the same or fewer resources if needed, which can significantly lower operational costs.
Content services platforms leverage intelligent capture technology to read data from invoices, validate the information against records in the ERP, and deliver approved payment data directly back to the ERP without manual intervention. Workflow automation can route invoices to approvers' email inboxes when required, and flag exceptions before they become a serious problem. All invoices and invoice activity is centralized in one system, offering better visibility into the payment status of each invoice and making it easier to predict upcoming for cash flow needs.
Human Resources (HR) – Employees are an organization's most valuable asset, and the security and accuracy of their personal information is critical for any HR department. Each employee can amass hundreds of documents, forms and data points throughout their tenure, and content services platforms can help HR departments control and secure all of that content digitally.
Content services platforms securely manage comprehensive digital employee files from hire to retire, and improve HR access and visibility to those documents by connecting them directly with the employee data in the HCM system. Content services platforms can also automate the sharing and acknowledgment of important safety policies and procedures. HR can easily issue policy changes to ensure all employees are aware of the latest standards, and automatically notify individuals of noncompliance to resolve any issues prior to an external audit. Should an incident or accident ever occur, these platforms can also centralize reports, photos, notes, etc. for any issue, allowing HR to assign follow-up tasks and monitor progress within a single application for faster resolution and better tracking for compliance.
Legal, Risk and Compliance – Depending on the sector, manufacturers must comply with a host of different regulations and laws. From food safety, to quality standards, employment laws and more, content services platforms simplify compliance document management by digitizing all quality and regulatory documents in a central repository. They can increase control and tracking over work instructions, procedures, MSDS sheets, corrective action forms, certificates, and more, and help legal teams quickly locate that documentation or identify any missing information in advance of an audit.
Content services platforms can also support contract management. Legal teams can manage the entire contract lifecycle, from contract request and authoring to execution and renewal with a single tool. Automating the routing of tasks, reviews and approvals to all involved parties helps to speed processing and reduce the risk of missed deadlines or supply chain disruptions from contracts in flux.
A single content services platform can be deployed across the enterprise to serve all of these departments. However, the value of content services platforms is not restricted to back office operations. The document management and process automation capabilities can extend to functions that offer critical support to the supply chain as well. Document intensive and often manual tasks like facilities management, import/export compliance, or managing the maintenance records for transport and freight vehicles can all be supported by a content services platform.
Industry 4.0 puts manufacturers in a unique position to evaluate technology solutions for their entire organization. AP, HR and Legal departments represent a significant cost for the organization. By leveraging a content services solution, manufacturers can automate and standardize these business processes to achieve the levels of efficiency they have expected from the production line for years. Any efficiency gains can save manufacturers real dollars in lower processing costs and avoiding penalties and fines, all while keeping the impact to the IT infrastructure at a minimum.
Danielle Simer is an Industry Solution Marketing Manager at Hyland.