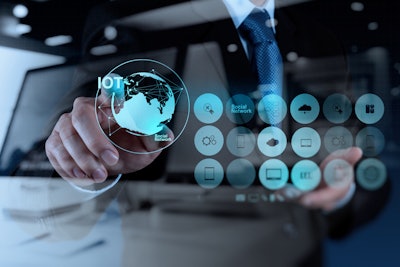 Discussion around digitalization of manufacturing evokes a variety of opinions, ranging from optimistic to not-so-optimistic. These conversations exist because digitalization cannot be overlooked or ignored. The evolution of manufacturing demonstrates growth. As per BLS data, there has been an adjusted growth of almost 80 percent in manufacturing output from 1987 to Q1 of 2017 in the US. Pew Research also reveals a remarkable growth of 166 percent in manufacturing output of durable goods in about the same period, with output growth of nondurable goods at 17 percent. While the data clearly indicates that manufacturing does not require a spark of resurgence, there are still challenges. Operational efficiencies struggle to keep up with growth. Costs are mounting. There's unplanned downtime, and the pressure of customized output. The way to remain competitive is through a commitment to digital transformation. A half-hearted approach will not yield the right results.
Digitalization may usher in a new era in manufacturing through predictive and prescriptive insights, optimizing operations, and providing better visibility to stakeholders from the shop floor to the top floor. Industry 4.0 is carrying forward the legacy of its predecessors in the quest of getting more with less. Big data and analytics, artificial intelligence (AI), machine learning (ML), robotics and automation, and the Internet of Things (IoT) are creating a robust manufacturing ecosystem.
Enabling and Optimizing With IoT
At my company, we devote ourselves to understanding the pain points of our clients, and then prescribing and executing 'horses for courses' solutions that work in alignment with the value chain of the organization.
One major challenge is that different departments within an organization do not automatically hold data in common. Vital, valuable information remains siloed and unshared. IoT identifies sustainable opportunities, enabling efficiencies and customer-driven product improvements and designs. Automation and data analytics should standardize the output across the spectrum of systems within a manufacturer's ecosystem. IoT's role is pivotal in recognizing the best manufacturing practices within organizations, delivering efficiencies and quality while ensuring optimum use of assets as well as workforce safety.
Beyond that, digital transformation enables manufacturing to not merely outmaneuver these challenges, but drive their successful resolution. Real-time data becomes visible, binding the various manufacturing operations along the value chain, optimizing the factory floor, benefiting the workforce and scaling output in a standardized and cost-effective manner.
Companies can use real-time data, combined with historical data, to create predictive and prescriptive analytical models, mitigating future problems such as access to raw materials, shutdowns, shortages, and product disposal. This is why we look for ways to engage the workforce, encouraging them to understand and proactively embrace IoT and ancillary technologies.
IoT and Customers: Distributed Analytics
At my company, we closely link IoT to distributed analytics, another key enabler in manufacturing. It provides manufacturers deep intelligence on consumer behavior and preferences while monitoring the health of the customer product. This data is obtained from the IoT devices. This allows manufacturers to glean new and relevant ways to serve the existing customer base, increasing customer satisfaction levels and customer retention, and ultimately boosting revenue generation.
Projections, Concerns and a Sturdy Future
Forbes recently cited a study by IDG on the state of digital business transformation. Almost 73 percent of respondents think that IoT will add definitive value to manufacturing over the next decade. About 63 percent feel that overall equipment effectiveness (OEE) is driving the adoption of IoT as a critical monitoring measure across the manufacturing spectrum.
With these opportunities on the table, what stands in the way? Pessimism among industry leaders stems from existing investments in installation as well as uncertainties around integration, phasing out legacy systems, and most importantly, the fear of disrupting current operations.
At my company, we endeavor to help our clients realize valuable solutions by overcoming pessimism while marrying existing business capabilities with technological evolution. Integration is a realistic concern, but existing systems including Manufacturing Execution Systems (MES) and Supervisory Control and Data Acquisition (SCADA) are sources of valuable data. Also, smart component sensors revitalize legacy plants and systems. IoT will complement these systems to make manufacturing a more optimized and efficient process. An outcome-based approach allows us to understand the products and create robust IoT-backed business models and digital strategies for our clients.
Change can be scary, but remember, whenever a discussion pits machines against men, the conclusion is foregone. Automation is here to stay, but we see machines complementing the human workforce, making factories smarter. IoT is future worthy with assured organizational value.
Justin Beltramo is Vice President & Global Leader of IoT WoRKS by HCL Technologies.