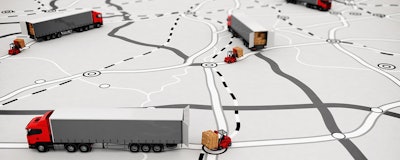 Transparency is a critical part of managing a fleet, and the only way to achieve true transparency is through GPS tracking. GPS tracking can be best enabled through two different forms — it can be installed as a hard-wired device, as well as a device that can be plugged into an OBD port. With GPS tracking for fleet management, fleet owners have the ability to not only increase visibility into their drivers and fleets, but also help achieve customer service excellence and encourage safe driver behavior.
In today's competitive landscape, GPS tracking is essential for field service and logistics businesses to stay ahead of the competition. Below are five ways that GPS tracking can support and enhance fleet management for a business:
Increase Visibility: The first benefit that usually comes to mind when hearing GPS tracking is increased visibility. With the ability to see the live location of a fleet as well as various aspects of driver behavior, a fleet manager is able to access the true location of each driver. This allows them to track efficiency, plan routes effectively, maintain transparency with customers and have added insight into driver safety and behavior.
Provide ETAs: Live ETAs remove the element of surprise by letting a fleet manager know where his or her drivers are and more importantly, when they'll arrive at their scheduled stops for the day. This can be achieved by leveraging tracking data to update planned routes. According to a survey by PwC, consumers expect their purchases to arrive promptly and are willing to pay extra for same day delivery. The survey said that over 40 percent of online shoppers said they would pay an extra charge for same day delivery and a quarter of respondents said they would pay extra to be sure of getting their packages within a one- or two-hour window of their choosing. With live ETAs, companies can service their customers better by exceeding these delivery expectations and ensure that deliveries arrive within the expected timeframe.
Manage from Anywhere: With GPS tracking, fleet managers can manage from anywhere — at home, in the office or on the go. Whether a small business owner wearing many hats or an enterprise fleet manager who manages remotely, having this increased flexibility of how and where to manage a fleet is key to keeping a delivery and field service business running efficiently, as well as providing customers with excellent service.
Implementing GPS tracking hardware and software can also be an extension of an in-person ride along. This can show drivers that their company is involved in their day-to-day processes and is using the data it receives to try and help make the workday better and safer for drivers. The ability to track drivers can also show a route planner which drivers perform better in certain areas (for example, if one is more familiar of a certain region than another), and can help a manager make quick route changes in real-time.
Encourage Safety: GPS tracking not only tells a fleet manager where their vehicles are, but it also provides insight into driver behavior, including alerts for violations such as:
Harsh braking: Violations connected to braking are typically triggered by tailgating/following too closely, stale green lights, distracted driving, not keeping a safe distance, etc.
Excessive idling: Flags potential unnecessary fuel waste
Cornering: Signals potential high speeds
Acceleration: Indicates taking off too fast from stop signs, accelerating too hard to pass vehicles, occasional signs of road rage, etc.
Having this added level of insight allows a fleet manager to accrue in-depth knowledge of all his or her drivers in the field to help assess risk and proactively manage fleet drivers' behaviors through predictive analysis. GPS features like in-cab buzzers can also help drivers correct these unsafe driving habits as they happen.
The ability to monitor driver behavior and safety can also lead to cost savings. According to a study by the Department of Energy's Oak Ridge National Laboratory, aggressive behavior behind the wheel can lower gas mileage in light-duty vehicles by about 10 to 40 percent in stop-and-go traffic, and roughly 15 to 30 percent at highway speeds. This can equate to losing about $0.25 to every $1 per gallon.
Optimize Analytics to Support Route Planning: By utilizing GPS tracking data, a fleet manager has the ability to review KPIs and metrics that can help push the needle for operations. It can support businesses by providing robust data on route challenges, traffic behavior, driver behaviors and overall route planning. With GPS tracking, companies can use the data to optimize route plans, identify areas of opportunity and determine where certain plans need to improve. For example, companies in densely populated cities can refer back to GPS tracking and route planning data to understand which times of day are best for certain deliveries, and which promises made to customers can actually be fulfilled.
As consumer demands call for faster and more personalized options, companies are fighting to compete in this heightened landscape. GPS tracking has become a necessity for effective fleet management and optimal customer service, and leads to better time and crew management, cost savings, efficient operations and most importantly, allows a company to best service its customers in the ways they expect to be serviced.
Riccardo Bocci is a Senior Product Manager at WorkWave.