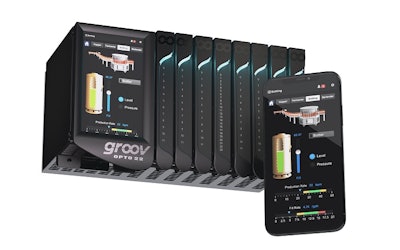 Opto 22 (Temecula, CA) announces the release of firmware update 1.4.1 for the groov EPIC Edge Programmable Industrial Controller, expanding the capabilities of this next-generation industrial control system. Engineers and developers will find helpful new networking options and tools, plus new software choices for their automation and industrial internet of things (IIoT) applications. Specifically:
For secure remote access to the groov EPIC, the system now offers VPN (virtual private network) client technology to connect to an OpenVPN-based VPN server. This option is a rare feature in programmable controllers and a key to creating secure data communication architectures, particularly with geographically dispersed systems.
Users can choose between Inductive Automation's Ignition Edge or the full Ignition platform, whichever edition is better suited to their application. Choosing the full Ignition option allows groov EPIC to serve as an industrially hardened OPC-UA server to legacy PLCs—like Rockwell Automation, Siemens, Modbus, and more—eliminating the need to purchase, configure, and deploy Windows-based computers to perform this function. This option can also significantly reduce the need for IT involvement in many cases.
www.opto22.com; 951-695-3000