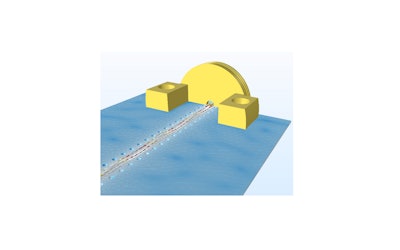 COMSOL (Burlington, MA) has announced the latest advances in its COMSOL Multiphysics software to support microwave and RF engineers working on 5G, IoT, automotive radars and satellite communications. With these tools, designers can model different PCB materials and study how they affect the performance of microwave and millimeter wave circuits. Several of the application examples to guide designers will be introduced at the International Microwave Symposium (IMS) 2019.
The use of simulation to achieve low insertion loss and reliable circuit performance in a design, requires choosing accurate material properties such as relative dielectric constant and loss tangent, while also considering surface roughness effects in the computer model.
Designing components ready for 5G, IoT, automotive radars and satellite communications will require multiphysics modeling. Using COMSOL Multiphysics microwave and RF designers can couple electromagnetic simulations with heat transfer, structural mechanics, fluid flow, and other physical phenomena, allowing them to represent coupled physics effects as they would occur in the real world. That means being able to accurately investigate designs and fully benefit from the virtual prototyping capabilities multiphysics simulation offers.
www.comsol.com/rf-module; 781-273-3322