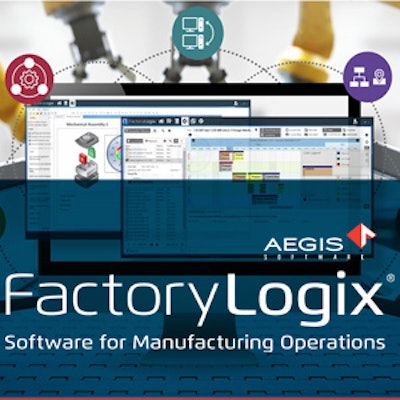 Aegis Software (Horsham, PA) recently made available the latest version (2018.1) of their FactoryLogix Manufacturing Execution System. This latest release:
Extends the Incoming & In-Process Quality Assurance capabilities to provide a total solution that includes Corrective Action and Preventive Action (CAPA), Material Review Board (MRB) and a Failure Reporting, Analysis, and Corrective Action System (FRACAS).

For the first time FactoryLogix users have access to Incoming Quality Assurance, In-Process Quality Assurance, and Administrative Quality Assurance platforms.

Optimized data management archiving that makes production data captured on the factory floor more easily accessible.
Auto-archiving that helps reduce IT-related costs and improve operational efficiencies.
Enhanced Operator Feedback capabilities that ensure feedback and ideas are digitally captured in real time.
Embedded Excel in the context of the user's workflow without needing to launch a second window or application to access that spreadsheet.
The ability to create time-based conditions and workflows that span beyond a batch, assembly, revision, workstation or line.