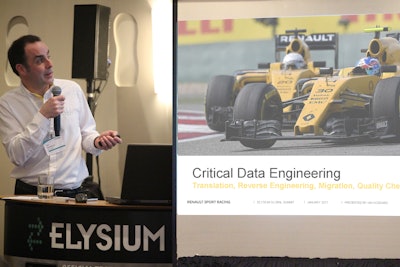 In January, Elysium hosted its first global user and partner summit in Huntington Beach, CA. Attendees included a select group of engineering-driven organizations, many of which are engaged in implementing Model-Based Definition (MBD) for all-digital manufacturing processes.
Joining the Elysium summit were Boeing, Gulfstream, Google, Rockwell Collins, Renault Sport Formula One Team, Zodiac Aerospace, Adient (Former Johnson Controls Automotive Seating), Karma Automotive, Kuka Systems, Advanced Integration Technology, BC Engineering & Design, Parker Hannifin & Parker Aerospace.
"Each company that attended our summit has diverse engineering systems and partners," said Annalise Suzuki, Director of Technology & Engagement for Elysium. "They absolutely must work from a unified digital model that conforms to the highest standards of accuracy for designing, machining and passing product information to stakeholders across their organizations.
"With the accelerating rise of automated work cells, we're seeing a commensurate supporting investment by industry leaders who are concerned about ensuring that data quality doesn't hold back the processing speeds offered by new technologies grounded in MBD. Increased production throughput and quality are key ingredients for profitability and customer satisfaction, whether in aerospace industries or consumer goods manufacturing. Our suite of solutions for the all-digital environment addresses long-standing challenges in data interoperability for both legacy and future products, systems, and platforms."
CADValidator Highlighted
Model-Based Definition (MBD) enables the automation of 3D data capture and comparison capabilities. Highly robust Elysium software, such as the CADValidator module in the ASFALIS product, enables downstream processes to leverage fully vetted MBD data.
While automating form-fit-function changes, CADValidator also captures presentation and representation changes that are not otherwise encapsulated in drawing-centric processes.
Elysium's CADValidator ensures that models translated from other systems or from previous releases of the same system are identical. It also validates CAD data for short- and long-term storage and retrieval so that any derivative models do not compromise quality. CADValidator assures that derivatives with long production lives remain faithful to their originals, which is critical when the originating CAD system has gone through many releases or is no longer available.
Renault Sport Formula One Team
Renault Sport Formula One Team's Ian Goddard was one of the presenters at the California summit. "Elysium software is critical to product development within our Formula One racecar program," said Goddard, Head of Technical Partnerships and the engineer in charge of computer-aided engineering (CAE). "We collaborate with other partners like Infiniti, working with the Infiniti European Technical Center to explore our common reliance on Elysium products. The development cycles of our F1 car center on tight race schedules and require very fast exchange of data without manually stopping to check geometry or question manufacturing process instructions. Our timescales are so critical that a single data issue could mean an important upgrade would miss its race debut but, with the support of Elysium, this has never occurred."