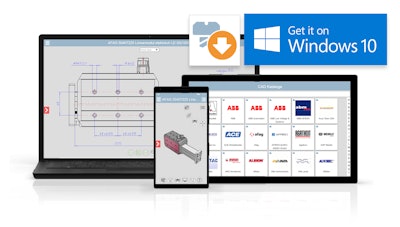 Since 2012, there has been the "3D CAD models engineering" app from CADENAS, which serves as a downloadable service and calculation tool for 3D data. Growing download figures in the Google Play and iTunes Store has led the developer to now offer the app for Windows 10. The app has been downloaded more than 600,000 times, and features:
A way to find the right 3D CAD model in the desired format.
The PARTcommunity app is based on CADENAS' eCATALOGsolutions technology.
The CAD models are manufacturer-certified and available in 85 formats for CAD systems like Solid Edge, NX, Parametric, Autodesk Inventor, AutoCAD, CATIA, SolidWorks and Creo.
Product configuring.
Extended product information such as pictures and augmented reality.
https://apps.microsoft.com/store/detail/9NBLGGH5RMZM?hl=de-de&gl=DE