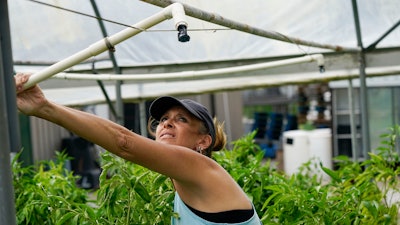 AP Photo/Gerald Herbert
BATON ROUGE, La. (AP) — Commercial citrus growers have dwindled over the past few decades in south Louisiana, where farmers have had to battle hurricanes, flooding, invasive insects, freezes and drought to keep their groves alive.
The latest hurdle comes from a slow-moving threat — a mass influx of salt water from the Gulf of Mexico that is creeping up the drought-stricken Mississippi River. Not only is the saltwater intrusion threatening drinking water supplies for communities, but it can also kill citrus seedlings.
The issue is forcing farmers to brainstorm other ways to irrigate their crops with fresh water — including storing the little rain water they've gotten this summer, hauling in fresh water and establishing makeshift salination treatment facilities. Some are looking into whether they can afford, let alone get their hands on, an expensive reverse-osmosis machine.
"They're going to have something up their sleeve. They know how to survive, but there's no getting around how dire the situation is," said Joey Breaux, the assistant commissioner of soil and water for the state's agricultural department, about the farmers. "Unless they have another source of irrigation water, or a way to pretreat irrigation water, it doesn't look too good."
Many communities in south Louisiana rely on the Mississippi's fresh water, with their intake facilities located along the river. Typically, the mighty flow of the Mississippi is enough to keep mass amounts of salt water from reaching too far inland. But hot and dry conditions across the country this summer triggered drought conditions that slowed the Mississippi's velocity and lowered its water levels. As a result, for the second year in a row, Louisiana is hastily working to avoid the disaster of a slow-moving salt water intrusion.
The Army Corps of Engineers is busy raising the height of an underwater levee used to block or slow the salt water, and 15 million gallons (57 million liters) of fresh water is barged in to treatment facilities.
Additionally, earlier this week Gov. John Bel Edwards wrote to President Joe Biden, saying federal assistance is "necessary to save lives and to protect property, public health and safety or to lessen or avert the threat of a disaster." Biden granted the request.
And while many are focused on the possible impacts of the salt water influx on Louisiana's most well-known city, 15 miles (24 kilometers) down the river is Belle Chasse — a community of about 11,000 people that sits on the west bank of the Mississippi.
If the rows of citrus trees and farm stands advertising satsumas don't make it evident that the small community is Louisiana's unofficial citrus capital then perhaps one can look to the area's annual Orange Festival. The event has commemorated the harvest season for more than 70 years.
While Plaquemines Parish, home to Belle Chasse, may not be Florida or California, its microclimate — southerly latitude and nearness to warm Gulf waters — has made it possible for citrus to be a unique part of the area's economy. For more than 300 years, farmers in south Louisiana have grown a variety of oranges that are available today in grocery stores and at farmers markets statewide.
At its peak, in 1946, Louisiana's prized citrus industry produced 410,000 boxes of fruit, said Anna Timmerman, a horticultural agent at Louisiana State University AgCenter who works closely with Belle Chasse farmers. But the vibrant citrus industry has suffered in the wake of hurricanes, with Hurricane Katrina damaging more than half of the trees. Since then it has continued to face challenges and the industry has dwindled. Timmerman estimates that there are about 800 acres (324 hectares) of citrus groves left in the state, most in Plaquemines Parish.
Unlike disasters that can have devastating effects overnight, such as hurricanes and freezes, saltwater intrusion is slow-moving. Timmerman said that the issue is estimated to reach Belle Chasse in a week or two and would only escalate to become a significant problem if it persists for several months.
"I know (citrus farmers) are scrambling to explore options, but the beauty of this is that we have some time," Timmerman said.
While the saltwater intrusion on the Mississippi hasn't yet impacted orchards, it is something that state officials and local farmers are diligently watching and making contingency plans for — with people looking at desalination units, reverse-osmosis machines and more affordable makeshift options.
"It's kind of just a wait-and-see situation for us," said Kim Dillon, the manager of Ben & Ben Becnel, Inc, a farmer's market owned by citrus growers who produce a variety of other crops as well.
While officials believe adult citrus trees will be okay, seedlings are much more sensitive to salt water.
Over the years some citrus farmers have focused on seedlings — shipping them to garden centers across the country and as far north as Canada. Nursery stock production is now a multimillion-dollar industry in Plaquemines Parish, Timmerman said.
For now many are monitoring the situation and seeing if state efforts will mitigate the issue. Most of all though, they're praying for rain — and lots of it.