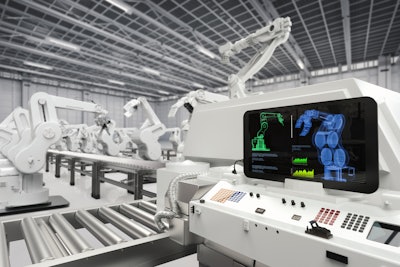 Automation in the industrial sector takes a number of unique forms, depending on the applications and expectations of the end-user. These factors, combined with an ever-evolving marketplace that places new and unique demands on equipment and personnel, can create a number of challenges.
We recently sat down with Brian Ballweg from Plexus - a leading electronics solutions provider - for his take on trends that are currently impacting U.S. manufacturers, and the technologies that could have the greatest impact going forward.
Jeff Reinke, IEN: How has automation trended over the last 18-24 months from a purchasing perspective?
Brian Ballweg, Senior Principal Engineer, Plexus: Industrial companies have recently expressed more interest in automation than we've experienced in the past. One major reason is the low unemployment rate. Without enough workers that have the right technical skills, it's difficult to keep up with demand as the market continues to grow without automating production lines or processes.
Over the next decade, that skillset deficit is only going to keep growing, especially as employees will need to work with the complex systems that are part of a digital transformation. The skilled labor shortage will make additional investments into automation necessary to keep production running efficiently.
Additionally, companies have demanded higher quality from manufacturing production each year. To meet those expectations, automation will play an important role for providing higher consistency within production. By tightly managing the relationships between machines and manufacturing lines, companies can better improve consistency, identify errors early on in a process and reduce the amount of manual touchpoints.
JR: What advice would you offer to help limit downtime and other challenges associated with bringing new automation equipment and platforms into the mix?
BB: Standardization should be the focus of every company starting their digital transformation. A standard solution often helps reduce time spent on maintenance and simplifies the process of replacing equipment. What can usually help encourage the adoption of a standard solution is understanding the problem an industrial company is trying to solve with the investment. Certain automation solutions are tailored to different applications, so by knowing the goal, companies can select what makes the most sense.
One of the major benefits when working with an external partner, like Plexus, is getting expert guidance on how to implement these new technologies to create a standardized and connected ecosystem that is repeatable, scalable and cost effective.
JR: How do you see company size impacting the type of automation products and equipment being purchased?
BB: Every size of company is exploring the solutions that can make their operations run more efficiently and improve the productivity of their workforce. What differentiates the companies that really experience success with their investment into automation is how well they connect operational technology and information technology.
Some companies don't have as many resources to invest, for example, and may not see the value of integrating an enterprise resource planning system (ERP) and automated production lines with a manufacturing execution system (MES). While an ERP, or an automated line, does have value on its own, an MES expands the ability to capture and analyze data, enforce workflows and standardize businesses processes.
Over time, an MES will lower costs and improve asset utilization by finding what is affecting productivity. One area that Plexus differentiates for its customer base is the fact that we have integrated our global factories through the use of a single instance of ERP, enabling a global, connected factory of equipment that can scale with the addition of new automated offerings.
JR: What newer automation technology do you see manufacturers implementing with greater frequency?
BB: Industrial companies are rapidly adopting industrial internet of things (IIoT) technologies as computing systems decrease in size. Smart automation solutions are at the heart of many new initiatives since they're a significant source of data that helps an employee at the facility make better, timely decisions.
With more data available, companies can achieve real benefits like reduced downtime. Predictive maintenance software, for instance, leverages the data from smart automation solutions in order to compare historical information with current performance.
JR: Is there a technology you wish more manufacturers would attempt to leverage?
BB: Machine learning is one of the most powerful tools in the industrial space, but still not very common. When a machine can learn from previous issues and teach itself to solve future challenges, that will be a major step in realizing the full potential of the IIoT. With machine learning, applications become more predictive and prescriptive in nature as the software continues to learn.
Machine-vision is another technology that will greatly advance the current state of industry. Today's machine-vision systems can perform detailed, automatic inspection of every component as it comes into a facility. By understanding the quality of a part, industrial companies can feel secure in knowing that what's coming down the line will have a better chance of meeting specifications, which reduces rework or significant product scrap.
JR: How is automation being impacted by network security or IIoT initiatives?
BB: Data collection and sharing is a major focus for many IIoT initiatives, and smart automation solutions make those activities possible. Those solutions are many of the "things" of the industrial internet, creating a connected environment that can be leveraged by powerful analytics software.
What's interesting is that network security and many of the IIoT initiatives can, at times, cross purposes. Data collection and sharing require different levels of security both within a facility and between a facility and the larger enterprise. As automation equipment and software becomes more important for operations, industrial companies will also invest more in safeguarding that data and protecting their system from intruders.
JR: Looking into the future, what automation product or technology do you feel could have the greatest impact on U.S. manufacturing?
BB: Artificial Intelligence (AI) could revolutionize the industrial sector. As more IIoT initiatives are launched, unprecedented amounts of data will become available within a company. Analyzing all that information could take a data scientist days or weeks to even create a model, which might not exactly provide insight to someone at the facility. AI simplifies how all that raw data is turned into an insight that is useful in near real time. When that happens, employees will be able to make critical, data-backed decisions with confidence.