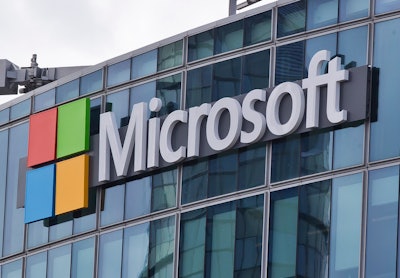 SEATTLE (AP) — Federal prosecutors have charged a former Microsoft sports marketing director with five counts of wire fraud, accusing him of attempting to embezzle $1.5 million from the company and using his NFL connections to sell Super Bowl tickets for his own gain.
Jeff Tran, 45, was the director of sports marketing and alliances and managed the company's relationship with the NFL and its payments to third-party vendors, the Seattle Post-Intelligencer reports .
In addition to selling off Super Bowl tickets intended for Microsoft employees, he allegedly coordinated the issue of false invoices to charge Microsoft for bogus services and the transfer of money for himself, according to the indictment filed Wednesday.
A Microsoft spokesperson said the company had investigated Tran, fired him and then contacted law enforcement.
It was not immediately known if Tran has a lawyer. No lawyer was listed on the federal court website.
Tran was instrumental in securing Microsoft's deal with the NFL to integrate the Microsoft Surface tablets into game play and broadcasts.
Microsoft bought several Super Bowl tickets from the NFL in January 2017 under their promotional agreement and meant for the tickets to be distributed to Microsoft employees, court records said. The NFL used a promotional company called Wasserman Media Group to allocate the tickets at Microsoft's direction. Tran was responsible for distributing the tickets.
Microsoft frequently made bulk payments to Wasserman for various services, reports indicated.
Tran allegedly directed a Wasserman employee to transfer the tickets to him personally and pledged to hand them out to Microsoft employees. Prosecutors said he sold about 62 Super Bowl tickets for more than $200,000 through a ticket broker and kept the proceeds. He also allegedly sold tickets to another Microsoft employee. Tran told the employee that he had bought the tickets himself. The employee paid Tran $12,400, prosecutors said.
In March 2017, prosecutors said Tran submitted a bogus purchase order to Microsoft for $999,000 to Wasserman, purportedly for NFL-related marketing services. He included false expenses on the order and Microsoft approved the $999,000 payment to Wasserman, court records said.
In March, Tran asked a separate consulting company called Sandoval Ventures to bill Microsoft $775,000 for services rendered that Sandoval had not actually provided, documents claimed.
He reportedly lied to Sandoval, claiming that the purpose of the invoice was to process a payment to another unnamed vendor that could not bill Microsoft or Wasserman directly because of a vendor limit. Tran orchestrated a $775,000 payment from Wasserman to Sandoval Ventures and then Sandoval Ventures delivered a $775,000 check to Tran, court records indicated.
Tran claimed he would forward the money to the unnamed third-party vendor, but deposited the check into his personal bank account, according to court documents. Wasserman kept the difference it was legitimately due from the $999,000 payment.
In July 2017, Tran allegedly requested that Sandoval Ventures bill Wasserman again for $670,000 in services on behalf of Microsoft that Sandoval had not provided.
He claimed that Sandoval needed to issue the invoice so he could pay a vendor not on Microsoft's approved vendor list.
The vendor to receive the payment was called "Trade Craft Consulting," which was a trade name registered to Tranmerica, a corporation Tran himself had established. Tran had reportedly opened a bank account under Tranmerica, Inc. with Trade Craft Consulting as a trade name. He used a false employer identification number and his own home address on tax forms, records claimed.
Tran sent a Sandoval Ventures employee several text messages urging him to submit the fraudulent $670,000 invoice to Wasserman, court documents indicated.
Employees at both Wasserman and Sandoval grew suspicious and reported Tran to Microsoft. When Microsoft confronted him with the evidence, Tran claimed he had been "hacked" and deleted incriminating text messages, according to prosecutors.
Tran then allegedly told the Sandoval Ventures employee he worked with not to tell Microsoft about the $775,000.