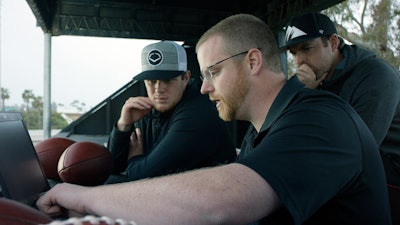 NEW YORK (AP) — Sam Darnold zipped pass after pass down the field, knowing each one of them counted.
Literally.
The New York Jets rookie quarterback was at his old stomping grounds of San Clemente High School in California last month, just a few weeks before being the No. 3 overall pick in the NFL draft , tossing "smart" footballs equipped with computer chips calculating his every throw.
It was high-tech training that Darnold and Jordan Palmer, his mentor and a former NFL quarterback, believe will help him — as well as other signal callers around the country — improve skills through unique and meticulous data.
Darnold and Palmer are serving as advisory staff members for Wilson, which makes the official balls used by the NFL. The Chicago-based company has been incorporating technology and performance-based data with its Wilson X Connected Football, which debuted two years ago. Now, Darnold and Palmer are helping develop the next-generation version that will enhance film sessions and, possibly, on-field production.
"I think it's really cool to come out here with Wilson and give them my feedback on what it really takes to be a quarterback and what I'm looking for in this data," Darnold said in a video provided by Wilson, "and help kind of build the prototype that is going to push this game to the next level."
Wilson hopes to have the 2.0 version of its Connected Football technology available for a wide release to college and pro teams later this year. In the meantime, the company is gathering feedback from some players and coaches at both levels, including Darnold and Palmer.
"Before this technology, it was really just based on the eye, the naked eye," Darnold said, "being able to look at the film and based on a throw, you might look at your feet, your hips or something like that, to tell you what might have happened, what might have gone wrong.
"Now with this technology, it gives us hard evidence, hard data to be able to look back on and figure out exactly what happened and what might have gone wrong and what we can improve on and keep improving as a quarterback."
Darnold's involvement with the Wilson technology began over a year ago when he was working with Palmer, who played in the NFL for parts of eight seasons and has become one of the country's elite quarterback trainers. One of the biggest criticisms of Darnold at USC before last season was a glaring flaw in his mechanics: an elongated motion with which he'd drop his right arm a bit when he wanted to air out a pass.
After one of Palmer's buddies told him about the first-generation Wilson X Connected ball, he decided to use it — and it confirmed his theory.
"I knew kind of how to fix it because it's really just retraining muscle memory," Palmer said in a phone interview. "I knew that, but to try to get it to where it was digestible and understandable, where I could prove definitively that he shouldn't do that, I just needed data to back that up."
Palmer set up receivers in different spots on a field and had Darnold throw to them to see what distance Darnold lowered his arm more than normal.
"He didn't do it on every throw," Palmer said. "We determined around 32 yards was when he felt like he needed to rip it, so he would drop the ball a little bit lower."
Meanwhile, the Wilson football was gathering results from four data points: spin (RPMs), spiral efficiency, velocity and time of release — when Darnold's left hand came off the ball as he was starting to throw to when the ball left his fingertips.
"What we determined is that it's the same velocity, same spiral efficiency and the same spin, but the time of release was slower when he dropped it," said Palmer, whose older brother Carson played quarterback for 15 NFL seasons. "So, it was basically like, 'OK, so you have a slowed release and you're not gaining any velocity on this.' So, that was eye-opening to where he went, 'Wow. So, let's go ahead and fix this.'"
Darnold and Palmer kept training with the football and used the data to fine-tune the mechanics of one of the most highly touted players in the country . The two were then asked by Wilson to help the still-developing training system get even better. While it wasn't immediately certain if Darnold will use the upcoming advanced technology with the Jets during the NFL season, he and Palmer have continued during the offseason to give their thoughts and suggestions on the new product.
"It's really kind of a peek into the garage," Palmer said.
The chip inside the new Wilson Connected ball has higher-caliber sensors than the original, and the system is being designed to work within a team environment.
"You can record up to 18 balls at one given time and you go through practice like normal and you'll be able to download all of this data that goes to a spreadsheet," Wilson Labs engineer Dan Hare explained. "From there, they can choose to import it into their video systems or review it with an analytics group or on their own."
The new Wilson Connected Football System will also provide information based around play timing. That includes snap-to-release times and snap-to-target times, which will help perfect individual routes on offense.
"You look at this information and say, 'Hey, based on my quarterback and what he can do, this is what my wide receiver needs to do in order to be in the right spot at the right time to get the ball fluidly,'" Hare said. "If your starting quarterback goes down, your second guy comes up and they're all on the same page about exactly what timing they need to hit."
Palmer is thrilled to huddle up with Darnold to help Wilson develop technology that he believes could potentially be "game-changing" for the sport — particularly quarterbacks.
"We're like in the construction phase of this in terms of putting it together, yet, we're still able to help the No. 3 pick in the draft get way better," Palmer said. "Typically, you have to wait for the final version to come out for anybody to even understand it and use it, so the fact that it's being this helpful this early and we still have a lot of really cool things we're going to figure out ahead of us is exciting."