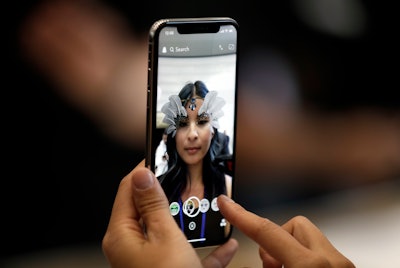 Apple watchers say the company's new Face ID technology could help revolutionize facial recognition and bring it to the mainstream. Too often, people have been able to fool such technology by wearing masks or printing out photos of faces. But Apple's iPhone X that was unveiled at a company event Tuesday projects infrared dots on faces to create a 3-D facial model. That enables it to confirm a warm-blooded person is looking at the phone.
Artificial intelligence expert Amarjot Singh, a PhD candidate at the University of Cambridge, says Apple's new sensors, along with a neural-engine chip, takes the technology a step further by combining what researchers have been working on all in one place.
Apple Senior Vice President Phil Schiller says only 1 in a million people could unlock another person's phone with their face. Shaun Moore, CEO of San Francisco-based facial recognition startup TrueFace.ai, says Apple's entry into the field will help bring awareness to facial recognition and help people view it as a viable solution to everyday problems.
Gartner analyst Brian Blau says the iPhone X's augmented reality features will change the way people use apps and give app developers new, "cool things" to do.
Apple on Tuesday showed off a simple use for this new, sophisticated camera technology with "animoji." Those let people animate emoji characters with their facial expressions. Blau says this — showing off a new technology with something that everyday people can use and understand — is what Apple does best.
The analyst also praised for the extended battery life for the phone, saying that's not something that often comes with new smartphones. The leaks and rumors leading up to Tuesday's showcase at Apple's Cupertino, California, headquarters meant there were few surprises at the event. But Blau says you could tell this was a special event for Apple, which honored is late co-founder Steve Jobs in the theater named after him.