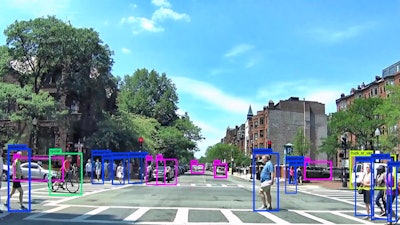 Invented by software company Neurala, the Neurala Brain is described as a deep-learning, neural networks platform that can learn and react in real time. Already embedded within NASA's planet-exploring autonomous rovers, the recent closing of a $14 million series A funding round could bring the artificial intelligence platform to the forefront of applications like toys, cameras, drones and self-driving cars.
Neurala will use the capital to accelerate development and expand application potential. The product of more than $11 million in initial research and development, co-founder and CEO Massimiliano "Max" Versace states that the "bio-inspired brainpower can be built right into devices, so that they can learn, see and act. This is essential for applications where reaction time is critical and you can't always get fast network access. It's also an endearing capability when toys recognize their young owners by sight, and give them a smile without communicating with a server.
If the Versace name sounds familiar – it should. Max is related to Donatella and the late Gianni Versace (2nd cousins) and hopes to make the Versace name equally synonymous with artificial intelligence.
Versace and his colleagues feel that the network's bio-inspired approach, which mimics the way human brains learn and analyze, makes it ideal for a variety of smart products. Applications from self-driving cars and industrial drones to toys, consumer electronics and smart cameras would benefit from the ability to learn, adapt and interact in real time.
This translates to security cameras identifying specific threats, drones learning to diagnose problems at the tops of cell towers, and self-driving cars understanding how to avoid obstacles. In addition to NASA, current customers include Motorola Solutions and Parrot Drones.
The company feels one significant differentiator is Neurala's scalability, which they call an "Anywhere Brain." By operating locally on the device no data needs to being transferred to a third party. So information is more secure and actions can be taken more quickly.
The company entered the deep learning and neural network space back in 2006 when Versace and fellow co-founders Anatoly Gorshechnikov and Heather Ames, were tasked by NASA. Versace is also a Fulbright scholar and has spoken about his research in brain-inspired computing and deep networks at dozens of events.
Neurala's software development kit (SDK) supports industry-standard NVIDIA, ARM and Intel processors. The company's founders also hold the patent for GPU-based systems running artificial neural networks. According to the company, with the Neurala Brains for Bots Software Development Kit and an ordinary camera, products can learn people and objects, recognize them in a video stream, locate them in the video, and even follow them as they move.