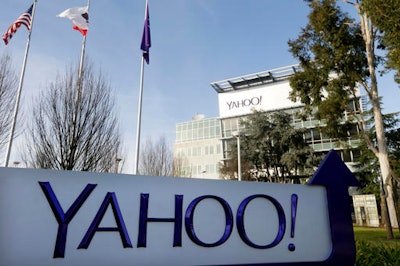 SAN FRANCISCO (AP) — Yahoo will adopt a new corporate identity and slash the size of its board if the proposed $4.8 billion sale of its digital services to Verizon Communications goes through.
The company plans to change its name to Altaba Inc. after it turns over its email, websites, mobile apps and advertising tools to Verizon. The new name is meant to reflect Yahoo's transformation into a holding company for investments in China's e-commerce leader, Alibaba Group, and Yahoo Japan that are worth about more than $40 billion combined.
Yahoo CEO Marissa Mayer, co-founder David Filo and four other directors currently on the company's 11-member board will resign after the planned sale to Verizon closes. Verizon is expected to retain Yahoo's brand under its ownership.
But the Verizon deal has been jeopardized by Yahoo's recent discovery of two computer hacking attacks that stole personal information from more than 1 billion user accounts during two different intrusions that occurred in 2013 and 2014.
Verizon is reassessing whether it should renegotiate the sales price or perhaps cancel the deal light of hacking revelations that could trigger a backlash among Yahoo users upset about sensitive personal details being stolen. Yahoo is fighting to keep the deal intact.
In the only change that took effect Monday, Yahoo director Eric Brandt became the company's chairman. He replaces Maynard Webb, who becomes chairman emeritus until the Verizon deal closes.
Brandt, the former chief financial officer of chipmaker Broadcom, joined Yahoo's board 10 months ago. Webb had been Yahoo's chairman for nearly four years. If the Verizon deal closes, Webb will leave the board along with Mayer, Filo and Eddy Hartenstein, Richard Hill and Jane Shaw.\