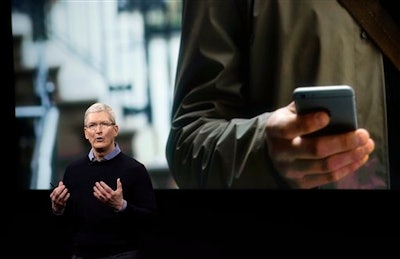 SAN FRANCISCO (AP) — Apple penalized CEO Tim Cook for the iPhone maker's first sales slump in 15 years with a 15 percent pay cut.
Cook still did extremely well, with a compensation package valued at $8.7 million for Apple's fiscal year that ended Sept. 24, according to a regulatory filing made Friday. But the amount was down from nearly $10.3 million in the prior year.
The Cupertino, California, company cited a downturn in Apple's revenue and operating profit as the main reason it cut the pay of Cook and its other top executives.
Apple's revenue dropped 8 percent to $216 billion, while its operating profit declined 16 percent to $60 billion. That was mainly because it sold fewer iPhones for the first time since the device came out in 2007.
It also marked the first time that Apple's annual revenue decreased since 2001, which was just before the company's late co-founder and CEO Steve Jobs unveiled the iPod. That digital music player set the stage for the iPhone and iPad.
The iPhone triggered a revolution in mobile computing and became Apple's biggest moneymaker, even as a wide range of device makers released competing products primarily running on Google's free Android software. Most of the world's smartphones are powered by Android, but the iPhone remains a popular high-priced status symbol.
Even so, consumers are holding on to their existing iPhones for longer periods instead of upgrading to a newer model every year or two. That has raised investor concerns that Apple has become too dependent on the iPhone, a nagging worry that has been aggravated by the company's inability to introduce another breakthrough product since Jobs' death in 2011.
Cook, Jobs' anointed successor, had hoped Apple would have another huge hit with a smartwatch unveiled in 2014, but that device has only had moderate success.
Apple's regulatory filing revealed that the company was bracing for a sales drop last year, although not quite as steep as what occurred. The compensation committee for Apple's board of directors had established a revenue goal of $224 billion for last year, which would have been a 4 percent decline from the previous year.
The company expected sales to rebound during the holiday shopping season on hopes that consumers would be snapping up its latest iPhones, the 7 and 7 Plus. Apple will release its quarterly results that include the holidays later this month.