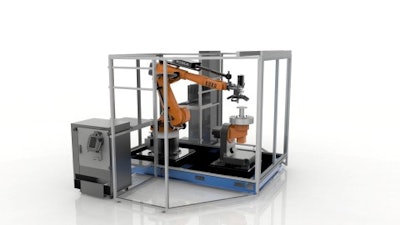 (
BUSINESS WIRE
)--
Stratasys Ltd
. and Siemens have announced a formal partnership to integrate Siemens' Digital Factory solutions with Stratasys' additive manufacturing solutions. The partnership is intended to lay the foundation for the two companies to fulfill their shared vision of incorporating additive manufacturing into the traditional manufacturing workflow and helping it to become a universally recognized production practice.
Stratasys and Siemens have been collaborating on multiple projects, including the direct link from Siemens' NX™ software for CAD/CAM/CAE to Stratasys' GrabCAD Print platform – enabling a seamless design-to-3D print workflow. Also, the recently previewed Stratasys Robotic Composite 3D Demonstrator incorporates Siemens' product lifecycle management (PLM) software, as well as its motion control and CNC automation technologies.
While additive manufacturing technology has made great strides over the past years, additional criteria are required for it to take its place in volume production environments. This includes the ability to deliver robust, repeatable and reliable operational performance with predictable properties across a broad portfolio of materials. Together, Stratasys and Siemens plan to address these challenges.
Stratasys and Siemens are showcasing their next generation additive manufacturing solutions at the formnext 2016 exhibition in Frankfurt. At the core of the 3D Demonstrator is Stratasys' advanced Fused Deposition Modeling Additive Manufacturing technology synchronized to complex multi-axis motion. It features Stratasys' extensible and scalable multi-operation architecture that provides the flexibility to integrate subtractive manufacturing, inline inspection and verification and product finishing.
The new workflow for the Stratasys Robotic Composite 3D Demonstrator begins with Siemens' NX software. NX enables designers to create parts to be produced on the system, simulate and evaluate the design for manufacturability and generate and send all the manufacturing instructions for part production. Throughout the manufacturing process, performance is controlled and communicated directly to the manufacturing operations management systems.