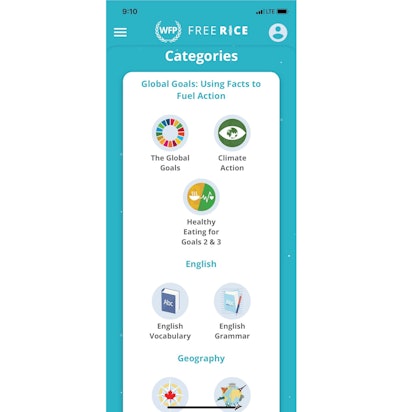 In 2007 computer programmer John Breen created the game Freerice as a way to help his son prepare for the SAT. Fast forward a dozen years later and players have generated nearly $1.4 million to help the estimated 821 million people around the world that the United Nations World Food Program says is not getting enough to eat.
The game, which Breen donated to the organization in 2010, rewards players for answering trivia questions by donating the equivalent of 10 grains of rice for each correct response. The WFP rededicated resources to the game about two years ago – redesigning the site and creating iOS and Android-compatible apps.
It makes money from display ads, which is used to support programs like providing school meals for kids throughout Africa. The game currently generates about $5,600 a month from its 620,000 players.
Freerice asks players multiple-choice trivia questions with varying levels of difficulty. Players can select categories that range from language skills (Spanish, Latin, French, Italian, Czech, and German) and literature to math, biology, grammar or geography. Recent updates include topics like climate change and nutrition.
In addition to traditional players, the game has become popular with teachers as a way to provide a competitive way to quiz kids, while simultaneously educating them about a serious global problem in which they can be part of the solution. In addition to your affiliated app store, the game is available at freerice.com