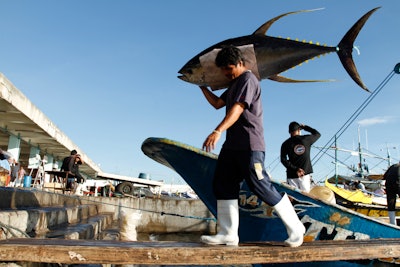 (PRNewswire) SAP SE and Bumble Bee Foods recently announced that Bumble Bee Foods is using the SAP Cloud Platform Blockchain service to trace the journey of yellowfin tuna from the Indonesian ocean to the dinner table. Together, SAP and Bumble Bee continue to improve upon seafood traceability as more and more consumers demand to know their food is safe and sustainably sourced.
With SAP's blockchain technology, consumers and customers will be able to easily access the complete origin and history of Bumble Bee Foods' Natural Blue by Anova yellowfin tuna simply by using their smartphones to scan a QR code on the product package. With the snap of a code, the blockchain technology provides instant information about the fish-to-market journey, including the size of the catch, point of capture and the fishing community that caught it, as well as valuable insights to verify authenticity, freshness, safety, fair trade fishing certification and sustainability.
"With SAP, we have the ability to track fish the moment it's caught and as it travels around the world, telling the story of each tuna while positively impacting ecosystems and the lives of the people all the way down the line," Bumble Bee Foods Chief Information Officer Tony Costa said. "Bumble Bee has long been an industry leader in tracing its seafood products, and the addition of SAP's blockchain technology allows us to further elevate our efforts in complete transparency with consumers and customers, providing assurance that their fish is fresh and it's been sourced fairly according to our commitments to the International Seafood Sustainability Foundation."
Blockchain technology allows companies such as Bumble Bee Foods to store data and create a tamper-proof supply chain history, which can be shared and seen by each participant. For Bumble Bee, blockchain is the safest possible way to share data between parties because it is incorruptible and verifiable. Bumble Bee is the first food company to incorporate SAP blockchain technology into its production.
Bumble Bee Foods' Natural Blue by Anova fair-trade certified ahi tuna steaks can be found in a 12-ounce bags at retailers nationwide.