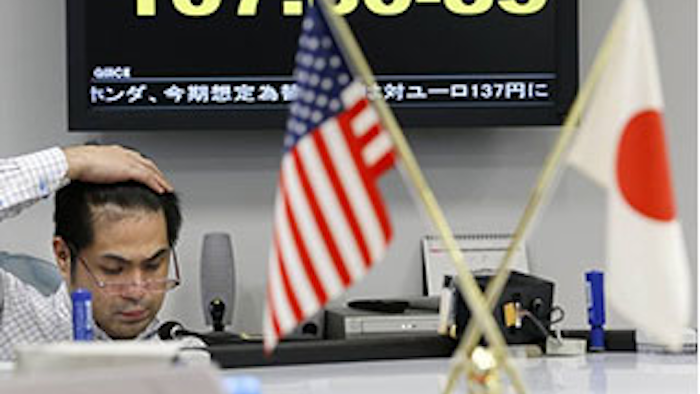 A new report says every state saw job losses due to a growing U.S. trade deficit with Japan, and warns Congress should not approve a proposed trade agreement without protections against Japanese currency manipulation.

"Currency manipulation acts as a subsidy to all Japanese exports, and a tax on U.S. exports to Japan, and all countries where U.S. firms compete with Japanese products," wrote Robert E. Scott, author of the report from D.C.-based liberal think tank the Economic Policy Institute.

The report attributed a $78.3 billion trade gap between the two nations in 2013 primarily to currency manipulation, in which Japan drove down the value of the yen through official announcements and through large foreign asset purchases. Those moves, in turn, prevented Japan's currency from adjusting to market conditions and effectively subsidized Japanese products against the U.S. dollar.

The EPI report said currency manipulation by Japan reduced the 2013 U.S. gross domestic product by more than $125 billion and displaced nearly 900,000 jobs — losses which impacted every state and nearly all congressional districts.

Those job losses included 148,400 jobs in the commodity and manufacturing sectors and 412,000 jobs that supplied those industries.

The report comes amid ongoing negotiations over the Trans-Pacific Partnership, a proposed trade agreement between the U.S. and 11 other Pacific Rim nations — including Japan and China, the second-place and leading global currency manipulators, respectively, according to the EPI report.

The TPP has the support of the Obama administration and some members of both political parties, and manufacturing groups have supported granting Trade Promotion Authority to the administration — or requiring an up-or-down congressional vote on trade pacts without amendments.

But the Alliance for American Manufacturing has previously called for currency issues to be resolved as part of TPP discussions, and today the group said job losses would continue under the proposed pact.

"History shows us that nothing erodes the benefits of free trade faster than currency manipulation," said AAM President Scott Paul. "We will make sure that Congress and the administration know the consequences of unchecked currency manipulation by Japan: high trade deficits and job losses in every state."
In addition, both "fast-track" authority and the Trans-Pacific Partnership have run into stumbling blocks in Congress — from Republicans who are loath to sign onto the president's agenda to Democrats who, along with labor unions, have long been wary of free trade deals and their impact on outsourcing of American jobs.

The EPI report, meanwhile, said the Commerce Department should be allowed to cite currency manipulation in trade complaints and that the country should develop preventative or offsetting measures to counter such manipulation.

Of more immediate concern, however, the report said the U.S. should not enter into a trade pact with a nation "that has demonstrated a persistent commitment to maintaining an undervalued currency that has generated a sustained, job-destroying trade deficit with the United States."