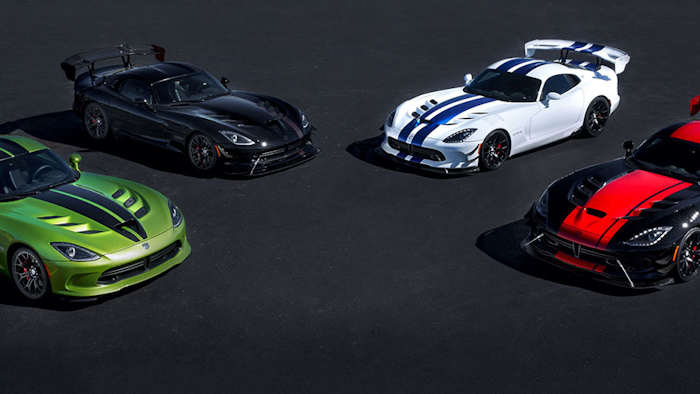 Dodge plans to end production of its Viper sports car after 25 years with a send-off that includes five limited-edition 2017 models.

The Viper won plaudits from racers and collectors alike since its debut in 1992, but the vehicle was notoriously difficult to control and never sold in large numbers.

Production was suspended amid the Great Recession — and Fiat Chrysler's bankruptcy — in 2010 but was revived in 2012.

Dodge plans to offer a total of up to 217 of the special edition models, which commemorate noteworthy designs, speed records and, in one case, the vehicle's top-selling dealerships in Tomball, Texas, and Roanoke, Ill.

Orders for the special editions, which will reportedly cost up to $140,245, will be accepted starting Friday.

The 2017 Viper will also continue customization options, including 11 potential wheels, 16 interior trims and thousands of exterior color options.
"The Dodge Viper has had a great run, and 25 years after it was first introduced, it leaves the supercar world reaching for the records it continues to set," FCA North America head of passenger cars Tim Kuniskis said in a statement.

About 30,000 Vipers were built in Detroit to date, beginning at Mack Avenue Assembly and since 1995 at Conner Avenue Assembly. The Detroit News reported that the fate of Conner Avenue's 60 hourly workers was unclear and that the United Auto Workers union was not notified about FCA's plans.