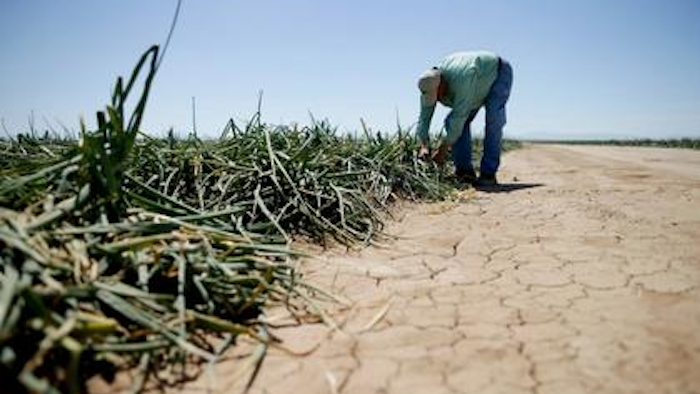 A report from a California think tank says that the state's farmers received record revenues for their crops in recent years despite a historic drought.

The analysis by the Oakland-based Pacific Institute said that California crop revenue hit a record $34 billion in 2013 and only narrowly failed to match that level last year.

Employment in the state's massive agriculture sector also hit a record 417,000 despite losses in the San Joaquin Valley. Job levels increased due to stronger performance in the Central Coast, the deserts and in the Sacramento River Valley.

The report that said that farmers' increased cultivation of higher value crops, including nuts and wine grapes, helped bolster revenue even as thousands of acres of farmland were abandoned during the state's historic drought.

Analysts also warned, however, that despite improvements in water-use efficiency, crops are using unsustainable levels of groundwater.

"(Groundwater overdraft) can help insulate the agricultural sector from some of the short-term impacts, but it does create impacts and costs that are borne by others, both in current and future generations," lead author Heather Cooley told The Desert Sun.

Gov. Jerry Brown in April announced the state's first-ever limits on water use, but the mandatory cut largely exempted the state's farms.

Eventually, however, experts believe the drought will catch up with California agriculture.

Farmers are already spending millions to upgrade infrastructure in the rapidly sinking Central Valley, while a University of California-Davis study anticipates that the drought will cost the industry $1.8 billion and 10,000 jobs this year alone.

Cooley, meanwhile, said that the record revenues would have been even higher if not for the drought.