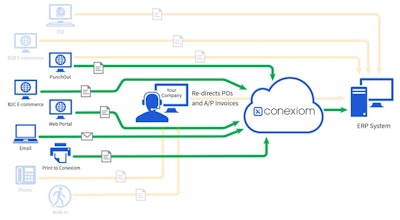 ecmarket, cloud-based solutions developer of Conexiom (Vancouver, BC), a non-OCR sales order and invoice automation solution, has announced a partnership with Insite Software, provider of business-to-business (B2B) commerce and data-driven solutions for manufacturers, wholesalers and distributors. Sharing a common vision, ecmarket and Insite will collaborate to enhance productivity and drive sales through their respective solutions, all without interrupting how companies do business with one aother.
Insite Software helps organizations grow revenue across both online and offline sales channels while driving productivity improvements for account-based sales and service teams. Paired with ecmarket's Conexiom Sales Order Automation solution, which automatically converts emailed or printed purchase orders into existing ERP systems, customers will have the ability to streamline their order-to-cash cycles with complete precision, accelerating the process by up to 95%.
According to ecmarket, Conexiom will allow Insite customers who receive emailed purchase orders to substantially accelerate their order processing, improving order-to-cash cycles, while also entirely eliminating the extremely costly human errors associated with manual entry.
The partnership with ecmarket, according to insite, unites the online experience for order notifications, shipping status updates, order tracking and account management delivered by the Insite eCommerce platform with Conexiom's 100% accurate order automation. Now, customer service reps previously responsible for manually transcribing emailed and faxed orders are freed to deliver more valuable customer interactions.
ecmarket and Insite Software will begin cooperative marketing and education efforts immediately.