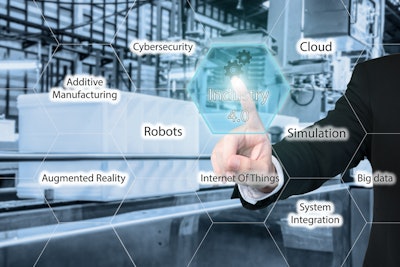 With smart manufacturing initiatives on the rise, manufacturers are implementing new technologies as a way of revolutionizing how they operate. But with so much focus on the transformation occurring on the factory floor, it is easy to lose sight of what matters most to the business – an engaged workforce.
That's right: Employee engagement is a critical consideration for manufacturers embracing digital transformation. There is no ignoring the fact that talent pools are tight and that manufacturers are fighting to attract and retain top talent. Implementing people-centric practices that help propel an engaged workforce will support digital transformation efforts across the business.
Here's how you can work to ensure that your workforce remains happy and engaged as you embrace Industry 4.0.
Equally Prioritize Operational and Employee-Centric Technologies
As you invest in smart manufacturing initiatives and operational technologies, show employees the value they bring to the organization's transformation by also implementing consumer-grade technologies that help create a better employee experience.
For managers, mobile access to HCM capabilities are very important as these allow managers to work from anywhere, including the plant floor. With more opportunity for face-to-face collaboration and hands-on training and development with their teams, organizations will see stronger manager-employee relationships and higher employee engagement. Performance data also empowers managers to have constructive conversations with employees to provide transparency about how their work furthers the strategic direction of the business—which is a key motivator for employees, especially Gen Z, and shows you are committed to their future at your company.
Throughout any change initiative, manufacturers need to keep the whole workforce in mind. Many organizations employ a multigenerational workforce: Gen Z, ages 16-25; Millennials, ages 26-37; Gen X, ages 38-54; and Baby Boomers, ages 55-74. Each generation adapts to new technologies at different rates. While digital natives prefer to swap shifts or view schedules on their mobile device, others may not even own a smartphone. A manufacturer's strategy for implementing new technologies should take these generational differences into account to ensure a positive employee experience for all.
Overcommunicate and Hold Managers Accountable
When it comes to communicating key business changes to employees, open-flow communication among managers, frontline workers, and executive leadership is most effective. Employees want to feel like they are part of the transformation journey, not just witness to it. Inspire your workforce and show employees you are actively working to keep them informed by communicating where your company is headed, and what steps you are taking to get there.
This means communicating regularly. Make sure managers are holding ongoing team meetings and one-on-one check-ins with employees. Similarly, give employees opportunities to offer feedback on their managers as well as the changes occurring at work. Your people are working in operations every day. They are likely full of ideas for innovating and reinventing your business – listen to them.
Provide managers with technology that lets them effectively measure and manage employee performance. This is especially important during a period of transformation to ensure employee engagement and productivity remain high. Also encourage managers to spend less time monitoring employees and more time on coaching and development.
When you rethink and improve how you operate as a people-centric business – during a transformation, or anytime – you are empowering a more engaged and more productive workforce that delivers better business outcomes.
Cultivate and Promote the Employee Experience Throughout Transformation
A report from Gartner claims that by 2023, at least 95 percent of sales of new workforce management applications will be deployed in the cloud. The way we work is changing, and the technology that helps manufacturers manage the workforce must keep up in order to fundamentally support employee engagement and drive productivity. Here's what you can do to help inspire your manufacturing workforce:
Implement consumer-grade technologies that give employees the technology experience they expect from a modern manufacturer. A study from The Workforce Institute at Kronos finds employees around the world will embrace AI to make work easier and fairer.

Provide a safe work environment that takes fatigue management into account

. Use advanced scheduling tools to avoid fatigue and burnout from things like consecutive days worked or too much overtime. This shows employees you are actively pursuing and implementing new ways to keep them safe.

Offer additional "currencies" that support work-life balance

.

Potential candidates and current employees are looking for more than just a paycheck. They see value in benefits such as adequate time off (and encouragement to take that time off), flexible scheduling and the option to work non-traditional shifts, as well as emerging financial wellness benefits like on-demand or next-day pay.

Prioritizing the employee experience is good for business.

When you create a work environment built to satisfy the wants and needs of your people, you are empowered to reduce the impact of the skills gap by cultivating a differentiated employee experience.
Understanding that employee enablement is a critical piece of your digital transformation initiative – and investing in human capital management and workforce management technologies to cultivate employee engagement and spur higher productivity – is one of your strongest tactics to remain competitive and drive your business forward.