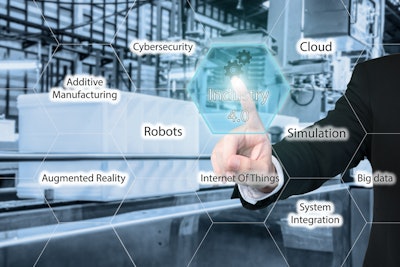 The Fourth Industrial Revolution is upon us. This new era of technological innovation is poised to help manufacturers boost efficiencies across engineering and sales while creating added value for their channel and optimizing the end buyer's journey. That's assuming that companies are willing and able to embrace the entirety of what 4IR technologies like IoT have to offer.
Evaluating preparedness is more than a question of whether companies have heard of IoT, AI and quantum computing. It's about whether IT decision-makers understand how to leverage these technologies to solve some of their biggest business challenges — including siloed operations, paper-heavy processes, lengthy sales cycles and clunky websites. More importantly, it's about understanding what a company stands to lose by not adapting to the changing needs of consumers.
Mass customization, for instance, is one of many trends inspired by our mobile-first society and the rise of 4IR. According to research from Deloitte, one in four consumers are willing to pay more for a personalized product or experience. Combine that with the "want it now" mentality created by an on-demand economy, and it becomes clear that forgoing standardization for one-off production is the name of the game.
An Industry-Level Shift
4IR technologies can serve as manufacturers' greatest tools as they seek to do this quickly and profitably. However, evolving the tech stack can be easier said than done in this traditional industry. Outdated attitudes and workflows can pose barriers to offering the user-friendly customization and CPQ (configure, price, quote) capabilities.
Procedures at manufacturing organizations don't look much different compared to 20 or 30 years ago. Some teams are hesitant to change for fear that automated processes will eliminate the need for manpower. Others are merely unfamiliar with what it takes to implement cloud-based solutions like CPQ. They might be frozen by a fear of the unknown, not realizing that this revolution has already taken hold in other areas of their lives.
Digital natives realize that the cloud infrastructure we interact with while shopping on Amazon is the same one enabling 3D printing, for instance. If manufacturers hope to revolutionize their tech stack, they must first become familiar with these next-gen solutions on a practical level. A shift of that scale takes time, know-how and a shared belief that 4IR technologies can accomplish far more than expected.
How Manufacturers Can Prepare for 4IR
It's not too late for manufacturers to assess the gap between where they are and where they'd like to be on the road to digital transformation. The following signs can help IT decision-makers recognize whether their company is at risk of falling behind:
Decisions are made in a vacuum.

It's not uncommon for manufacturing companies to operate in silos. Sales and engineering teams tend to function independently, as salespeople aspire to accommodate as many custom preferences as possible. With zero insight into the sales arm, engineers are left to generate CAD drawings and estimate quotes using highly manual, time-intensive processes. It could take several weeks to provide an estimate to sales teams — assuming that a customer hasn't already moved on to a competitor in favor of a self-guided, tech-enabled experience with real-time quoting. Encouraging direct and consistent communication across departments is a great first step in initiating a digital transformation.

IT prefers an in-house approach.

When it comes to answering the consumer call for customization, CPQ solutions stand out as the most viable option. But, IT teams may push to keep full development and ownership of the platform in-house. Some manufacturers underestimate the technical expertise it takes to develop a proprietary solution that suits their unique needs — and specialists in this area are already few and far between. Eighty-six

percent of business leaders

thought their organizations were doing enough to create a workforce for 4IR in 2018, but this year, only 47 percent are as confident. The best path forward in light of the current tech skills shortage can be to enlist the support of a third-party solution provider that can design a new mass customization workflow along a realistic timeline. More importantly, they're able to empower your team with easy-to-learn instructions for managing the back-end moving forward.

Perfection is a KPI.

IT decision-makers can sell themselves short when they attempt to fully perfect a CPQ solution before launching. The pressure to completely overhaul an existing workflow and replace it with a fail-proof tool can easily cause manufacturers to stall on the road to digital transformation. Rather than testing an endless string of prototypes, IT teams can benefit from embracing an iterative process. If they dare to start small, they can pivot and refine based on trial and error. This approach leads to the development of an agile CPQ solution that grows with an organization, as opposed to a series of fits and starts.
Manufacturers are in a unique position to thrive as physical and digital worlds merge in the age of 4IR. Reframing corporate mindsets, looking outward and selecting the right third-party solution provider can easily equip the least-prepared companies to embrace automation in this transformative era.