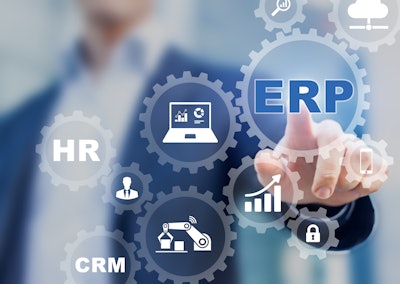 The enterprise resource planning landscape has matured. Now, most manufacturing companies of all sizes have implemented some kind of ERP solution, but we see many larger companies are now finding that their existing ERP solution cannot effectively deliver on all business requirements. In some cases, a company may have in place a very narrow, industry-specific ERP system and simply outgrown it as they diversified, but more commonly problems arise for companies that have implemented an ERP solution from a 'tier one' vendor.
Companies that struggle to provide adequate divisional solutions using their existing ERP should consider changing their ERP approach. There are many options available:
A 'rip and replace' strategy investment.
A partly implemented solution.
Manual strategies managed by spreadsheets.
Best of Breed (BoB) solutions.
However, a two-tier ERP solution provides companies with the ability to run the equivalent of two ERP systems at once. This means a manufacturer can use an ERP system to manage its global finance and sales operation while running lighter, more agile ERP solutions within its production facilities.
Why Change?
Using a single ERP solution across an entire organization without compromising on an individual business unit's efficiency and flexibility is obviously the ultimate solution, but this is difficult to achieve for manufacturing companies. A two-tier approach could be the most appropriate strategy and should be seriously considered—particularly for large organizations with diverse product ranges and markets where the 'one size fits all' only delivers compromise and cost.
While putting in place multiple solutions on the face of it sounds expensive and a cost increase, companies must consider all the advantages that come with a two-tier ERP solution. When taking into consideration implementation, maintenance fees, upgrades and modifications, a two-tier ERP solution can offer companies large, measurable cost savings—arguably the most significant benefit of this type of strategy.
In most cases a two-tier ERP solution will be purchased for a specific business type—for discrete, mixed mode or process manufacturing—therefore minimal customization will be required, and this eliminates the need to modify a legacy system which can be very costly and time-consuming.
With a more agile and focused solution, companies with a multiple ERP strategy have greater flexibility, which makes for smoother operations and greater effectiveness. For instance, an implemented two-tier ERP solution takes away the need for a large-scale IT team to maintain and customize one legacy ERP system. These employees can instead focus on other business issues or be assigned to other positions within an organization. This makes for better use of staff time, and the extensive information that a two-tier ERP system provides will ultimately improve decision-making.
Because a tier-two ERP system enables companies to maintain productivity at corporate level, every tier of management has simultaneous access to real-time data and are then able to take care of day-to-day operations as they occur—taking instant control of any issues.
Pros & Cons
A two-tier ERP strategy could have some trade-offs — if this involves dealing with two or more IT vendors, and if there are complex business process linkages between the two ERP systems. It is critical to consider the advantages against the disadvantages to make the strategy work.
Varying data structures can result in complex integration and orchestration, while developing global standards and processes can be challenging. Better use of staff time represents a benefit of this type of strategy, but it could be argued that moving personnel around an organization can impede company growth. As I have explained above, a two-tier ERP system has long-term cost saving benefits, but cloud migration can be complex and expensive—especially if the environments are very different.
Because different, older ERP strategies such as BoB solutions failed to deliver, primarily as a result of the reality of integrating disparate structures, technologies and standards, the key to a successful tier-two strategy is to 'keep the bits big'—which makes for simple integration. Selecting a dividing line between the ERP solutions that maximizes the ERP capability of both, but at the same time minimizes data replication and integration, thus reducing complexity, is paramount. All tier-two solutions will differ, and where the line between the ERP solutions is placed will vary.
Manufacturing companies should think big blocks—the smaller the blocks the higher and more complex the integrations and processes need to be. Establishing the integration line is probably the single most important decision.
Think about timing—does data need to be in real-time? Standardization should also be a main consideration. A common approach to numbering, ways of working and technologies is important, despite there may be different ERP solutions.
The key to making a tier-two ERP solution work is to carefully think through the strategy—ensuring that the chosen model accounts for all the potential benefits and pitfalls, and not just allowing individual business units to dictate.
At first glance a sophisticated tier-two ERP solution may sound expensive, but manufacturing companies must consider the wider benefits and long-term gains that come with this type of strategy. A two-tier solution enables organizations to run two systems from corporate divisions to production, provides greater security over projects than a tier one solution and gives companies better flexibility in terms of making quick decisions in daily operations. Companies must thoroughly consider the strategy that works best for them but would be foolish to rule out the implementation of a tier-two solution in favor of spending large sums of money on modifying existing legacy systems.