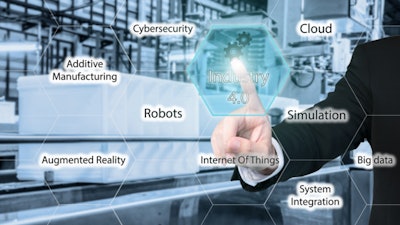 From AI and blockchain to the Internet of Things and 3D printing, the evolution of new industrial technologies is constant and, at times, difficult to prioritize. These advancements offer manufacturers the ability to streamline operations, improve customer connections and take customization to a whole new level.
We recently sat down with Kris Goldhair, co-founder of KBMax, a leading provider of configure, price, quote (CPQ) software solutions. He offers some insight on how manufacturers can tackle some of the challenges associated with embedding new technologies into a manufacturing enterprise.
Jeff Reinke, IEN: What do you feel is the biggest obstacle for manufacturers when it comes to integrating new technology?
Kris Goldhair, Co-Founder of KBMax: Manufacturers often overplan the rollout of new technologies. They should understand that it can be an iterative process that they can continue to implement and optimize quickly.
JR: Because of these obstacles, real or perceived as they might be, what do you feel is the biggest opportunity manufacturers are missing out on?
KG: Manufacturers are missing out on tools that can make their processes more efficient, like a CPQ solution. Many are still using spreadsheets and price books to manage their sales processes. This leads to too much human error and wasted time spent on these old systems.
They really should be focusing on how to improve their technology and automation to transform their entire organization. This change does not have to be sudden. Manufacturers can chip away at this evolution. Taking one step at a time is the best way to take advantage of this tech and slowly grow and change their processes.
JR: How do differences in the size of manufacturers impact their attitudes towards Industry 4.0 technologies? Are there differences in varying market sectors? Geography?
KG: We've noticed that certain verticals are more inclined to adopt Industry 4.0 technologies. For example, medical device and lighting manufacturers are leading the way in 4IR (fourth industrial revolution) innovation. We have not seen a difference when it comes to geography, but the size of manufacturers tends to dictate the amount of resources allocated to the exploration of these new technologies.
JR: Which technology do you think is at risk of having its development impeded because of implementation challenges?
KG: All new technology can be impeded by new requirements. Involving several different teams when integrating business systems can cause major challenges. It's critical to make sure everyone is onboard with the goals and plan for implementation prior to kicking off a digital transformation project.
JR: If you could provide U.S. manufacturers with one wish, ability, super-power, etc., what would it be?
KG: Most manufacturers are afraid that change will affect their career trajectory, but in reality, it will only help them sell more and sell faster. I would increase their capacity to explore. U.S. manufacturers should not be afraid to change and evolve.
Rather, they should be open to new technology and iterative implementation. At the end of the day, this 4IR technology will only help companies grow and be more competitive in the market.