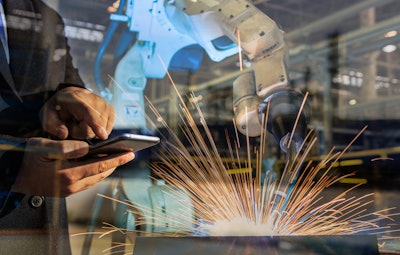 A research study conducted by Emory University and Presenso indicates that Original Equipment Manufacturers (OEMs) will assume more responsibility for Operations and Maintenance (O&M). Following is a high-level summary of the findings.
As IIoT adoption becomes more widespread, OEMs will need to change the sales and service model. While today OEMs manufacture and sell industrial equipment, there is an expectation that more OEMs will lease equipment to plants and maintain responsibility for asset reliability. This shift is enabled by OEMs' ability to monitor data from embedded sensors in offsite locations and to dispatch technicians when signs of evolving failure are identified.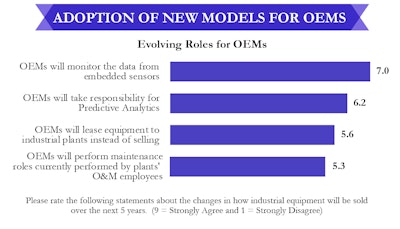 It should be noted that there was more of a consensus regarding the expectations that OEMs will monitor data and less of a consensus regarding whether OEMs will perform maintenance roles currently performed by a plant's O&M employees. There is considerable uncertainty as to who will likely benefit from this new approach. Many respondents remain undecided.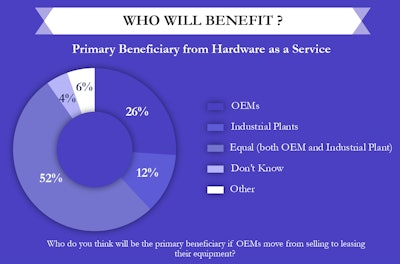 Larger and well-financed OEMs that can develop expertise in IIoT could benefit at the expense of smaller OEMs that do not have the financial resources to extend their service offerings. A shift in maintenance responsibility from the industrial plant to the OEM is expected to improve the operational performance of assets, including availability, asset health and useful life.
Many O&M employees perceive a risk associated with OEMs assuming Predictive Maintenance responsibilities. The primary risk is that OEMs will lack the technical skills to build Predictive Maintenance solutions (3.4/5.0). Interestingly, there was less of a concern that OEMs would replace industrial plant O&M employees (3.1/5.0).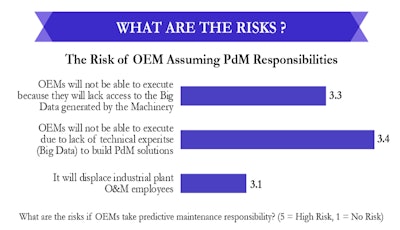 There has been significant hype in trade publications and in the analyst community regarding the Digital Twin. However, 28 percent of survey respondents were not familiar with the Digital Twin, while an additional 13 percent did not believe that OEMs would bundle the Digital Twin with industrial equipment. The most common response (45 percent) was that some OEMs would bundle a Digital Twin with equipment. This response reflects both the perceived value of the Digital Twin and also the recognition that the Digital Twin is a complex solution that cannot be easily adopted.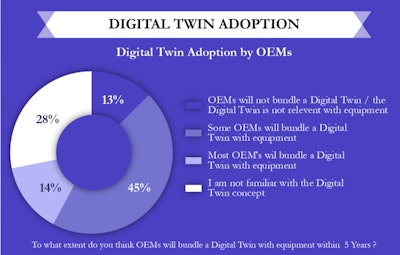 The full report can be accessed here: https://www.presenso.com/blog/Maintenance-4-Emory-Research.