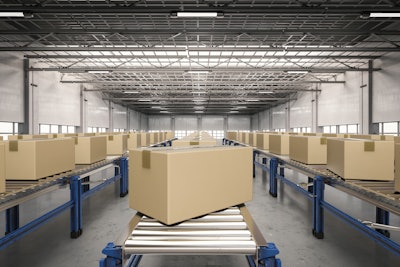 Amazon Business is Amazon's business-to-business multi-seller marketplace that serves more than one million business customers in the U.S. Customers range in size and industry, including the industrial sector. Martin Rohde, head of commercial customers at Amazon Business, recently sat down for an interview with IEN. He discusses some of the strategies Amazon is using to target the industrial buyer and this group's growing comfort levels with e-commerce.
Jeff Reinke, IEN Editorial Director: How is the customer experience different for a user of Amazon.com and Amazon Business?
Martin Rohde, Head of Commercial Customers at Amazon Business: We heard from our business customers that they love the convenience of shopping online and want an experience at work that is similar to how they shop at home. That said, we are materially different in two ways, the first of which is our selection and pricing.
We expanded our selection based upon the needs of business customers and offer business-only pricing on millions of eligible items, quantity discounts from select manufacturers and sellers, as well as unlimited fast, free shipping on tens of millions of eligible items through Business Prime Shipping.
The second way in which Amazon Business is fundamentally different can be found in the broad number of features specifically tailored to the needs of business customers, such as pay by invoice, tax exemption, workflow approvals, reporting and analytics. Customers can also meet specific sourcing requirements by refining their search for sellers with specific quality and diversity credentials, such as small, minority-owned, women-owned or veteran-owned businesses.
JR: Why do you think e-commerce has grown in popularity amongst buyers in the industrial marketplace?
MR: We believe that the ease of doing business and speed of the transaction play a big role. We heard from customers that they are increasingly shopping for business supplies online and appreciate a faster and more convenient way to discover and purchase these supplies. Amazon Business is a way for companies to give autonomy to individual buyers while also increasing visibility and adherence to corporate compliance.
We also believe that our product detail pages are well structured and address customers' needs during the research phase, cutting down on an otherwise lengthy and time-consuming process. Amazon Business provides features such as in-depth technical information, recommendations for similar products, accessories frequently bought together and the ability to compare products to streamline the research process and enable customers to find what they need when they need it.
JR: What are some of the reasons why a buyer would go to Amazon instead of a traditional industrial distributor or wholesaler?
MR: We wouldn't speculate on that, but what we hear from customers is that our vast selection of products and the high likelihood of finding what they need at very competitive prices is the number one reason why they choose to use Amazon Business. Customers can leverage Amazon Business as a one-stop shopping destination for many of their purchasing needs, which directly translates into speed and ease of doing business.
We also provide the compliance and control features that are important to industrial buyers. Amazon Business enables real-time, dynamic competition with multiple suppliers, making it easier for buyers to compare offers and select that which best meets their needs.
In our marketplace model, we invite distributors, third-party sellers, manufacturers and others to leverage Amazon Business to reach new customers. We hope to bring buyers and sellers together.
JR: Are there any particular product categories that have either been noteworthy successes or challenges?
MR: Let me give you an example that highlights the breadth of products. An industrial customer was expanding its manufacturing facility. After the expansion, employees were taking longer getting from point A to point B on the factory floor, and the company wanted to purchase bikes to help with moving around more quickly. Additionally, this customer wanted to take extra safety precautions, so they searched for tricycle options in a bright color.
The customer was able to quickly search and purchase yellow tricycles on Amazon Business – and received them within two days of placing the order. This is not a common example, but this story demonstrates how businesses are leveraging Amazon Business for their tail spend needs.
JR: Can manufacturers integrate Amazon Business into ERP or purchasing software platforms?
MR: Yes. We integrate with more than 50 third-party purchasing systems to allow for easy access to Amazon Business, including SAP-SRM, Oracle, Infor, and others (a full list of the purchasing systems is available here). We are constantly listening to customers and working to integrate with the solutions they are already using to make their procurement process more streamlined and efficient.
JR: Looking forward, if you could give the industrial buyer one gift, ability or super power, what would it be?
MR: The ability to forecast the unforecastable, as well as smoothing out the purchasing process and customer experience across the supply chain.