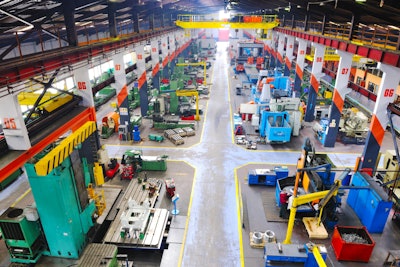 Even though manufacturing employment has declined over the past quarter-century, the United States manufacturing sector looks overwhelmingly positive in terms of growth prospects. Half of the industry leaders surveyed expect revenues to grow by at least five percent over the next half-decade.
Why have attitudes shifted so optimistically, even as the market becomes more difficult to read? For one, lowered start-up and operating costs, as well as access to financial backing, have allowed competition to flourish in ways that didn't exist decades ago — pushing all manufacturers to acknowledge and respond with urgency.
How to respond to such a challenge? By looking to consumers. Manufacturers are now embracing the end-consumer response to their business models. More and more manufacturing companies are integrating new elements to their business plans, investing in novel systems and researching an accumulation of data to meet lofty growth targets driven, in large part, by their consumers.
The Consumer-Driven Frontier
As manufacturing CEOs focus on better meeting customer needs, there has been a shift in marketing and branding strategies. This reshuffling of priorities that now place the consumer at the helm of decision-making has had an enormous influence on manufacturing strategies.
Consumers have shot to the forefront of the long-term manufacturing strategy, thanks to the wealth and quality of information available to them. Digital data storage, broadband and wireless communications, and reduced barriers to entry have each democratized the breadth of consumer empowerment.
As a result, the concept of the "mass market" is shrinking to near extinction; only niches remain, and the members of these niches demand to be served custom products and services. A side effect of this splintering of mass culture is a polarization of consumer behavior regarding value, practically erasing any "middle ground."
In manufacturing markets, disruption isn't always tied to making a more efficient product, or a less expensive one — often, disruption comes from responding to a specific consumer requirement. Consider how Uber and Lyft have influenced the country by providing not better vehicles, but vehicles that are more conveniently available.
Product values have shifted from those of previous generations, who appreciated performance, price, and functionality. Younger generations place their trust and loyalty in products that fulfill a desire or meet a basic need. If your company cannot rise to meet these needs and desires, younger generations — the consumers driving our future — are likely to move on, to a company that can.
Shifting Strategies

The 2016 U.S. CEO Outlook from KPMG LLC showed that leaders are preparing for a sea of change. When asked about business models, 49 percent of CEOs stated their organizations will transform "significantly" over the next three years.
This could entail shortening product cycles, developing specialized supply chains, and collaborating directly with other businesses and institutions to better serve consumers with what they need, when they need it. Company executives acknowledge this, and believe the best tactic for reducing time to market is a better understanding of what customers want in relation to what the market is providing.
Manufacturing companies are reacting to rising consumer demand by building specialized supply chain models. These investments are focused on being fast, responsive, and inexpensive, but not at the cost of meeting customer expectations.
The balancing act for manufacturers is to create a better ROI in the interim, while establishing the foundation for long-term supply chain optimization. Data from a single part of a supply chain can no longer be interpreted in a vacuum. It must be integrated with all other data sets to create an accurate snapshot for efficiencies and areas of potential growth.
Supply chains must also be sensitive to changes — even minor ones — in consumer demand. They must be able to respond in real-time, with synchronized distribution and replenishment. Responsiveness to this degree improves the availability of products and lowers waste, thereby shrinking operating, warehousing and transportation costs while improving margins and asset utilization.
Collaboration Nation
Fortunately, with the shift in priority to more consumer-focused goods, there's also more opportunity to bypass middlemen and intermediary organizations — such as dealer networks — to connect immediately with the customer. According to KPMG LLC's 2016 U.S. CEO Outlook, 8 out of 10 CEOs agreed that communicating with suppliers and start-ups, research institutions and academic centers, and external parties will be essential to growth over the next few years.
These kinds of collaborations help businesses to get in touch (and stay in touch) with their consumers more directly. Investing in new technology, ranging from 3D printing to implementation of enterprise resource planning (ERP) systems, has also piqued the minds of manufacturing leaders.
Somewhat predictably, the top priority for investing in tech remains improving productivity, but as a sign of the times, industry leaders also expressed desire to embrace new technologies in order to increase collaboration with customers and suppliers, and to respond faster to customer orders and requests.
Contributed by Aaron Continelli, president of Cre8tive Technology and Design, which specializes in ERP system sales and services.