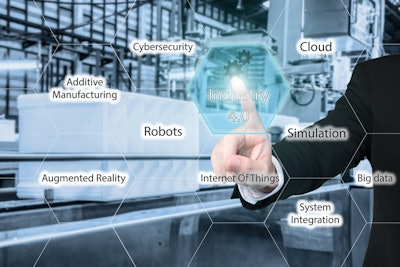 The recent Boston Consulting Group (BCG) study, Sprinting to Value in Industry 4.0, has an interesting assessment about the race to adopt new digital industrial technologies, which promise to revolutionize manufacturing.
Managing adoption as a series of sprints in a well-planned program makes sense. The premise: While manufacturers recognize the potential value of digital technology, some are losing out on that value because of their approach. I have a very different viewpoint on the study's findings.
Is There a 'Right' Approach?
Yes.
What is seen as uneven adoption and implementation across technologies is actually, in my eyes, the correct approach. The adoption of technology is uneven because the maturity and return on investment isn't uniform for all technologies.
Few if any companies can and should adopt new technology as an "all or nothing" proposition. It's a company's priorities that drive adoption.
In the case of digital industrial technology, the highest priority is connectivity – or connecting assets throughout the enterprise. This is the first step in realizing the value of the cloud and big data.
Then, as the BCG study confirms, the next priority is cybersecurity, or helping confirm information shared via the cloud is secure from outside threats. After these two priorities, study respondents indicate lower levels of implementation for additive manufacturing, advanced robotics and augmented reality.
This makes sense, as this approach – like Gartner's hype cycle – is the way most manufacturers implement new technology. The hype cycle represents the maturing, adoption and application of technology in five phases, from breakthrough through plateau of productivity (or mainstream adoption).
Smart organizations look at solutions that make the biggest impact for the least budget, to get the most benefit per investment. Thankfully, manufacturers do not need to implement digital industrial technologies as a whole to realize the value of the pieces.
That is the concept behind The Connected Enterprise. This is a purposeful approach targeting the biggest ROI, or achieving the greatest benefit with targeted investment.
Here's an example of how purposeful implementation follows the development lifecycle. One day – not so long ago – we had fixed workstations. Now we have mobility through tablets and phones, and apps like FactoryTalk TeamONE that address mobility and collaboration in a security environment.
On the Horizon
We already see how technology is evolving to handle things like augmented reality, and the changes companies will need to handle everything from employee education and training, to maintenance and the design and footprint of the entire manufacturing floor.
And as these products are developed, a company that has already incorporated digital industrial technologies into its manufacturing processes for greater connectivity and security will be better able to adopt the next stage technologies for greater productivity.
The BCG study reinforces that our approach – the approach we are helping customers implement – is logical, thoughtful, value-driven and effective.
This blog originally appeared on the Rockwell Automation Blog, and can be viewed by clicking here.