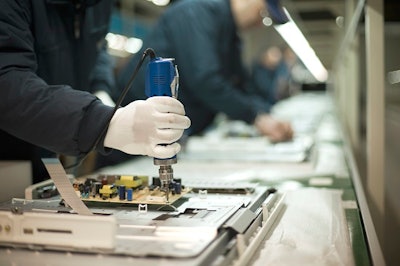 Consumers want specialized, personalized products.

So manufacturers are deploying a variety of production models, such as late-stage assembly and assemble-to-order, to shorten the response time to the consumer's order and to gain inventory flexibility.

Are the traditional make-to-stock and assembly-line manufacturers also affected by these trends? Of course.

Widespread increases in product variety plus the demand for shorter delivery times and greater value are forcing manufacturers to consider alternatives to both make-to-stock and make-to-order modes of production.
One such alternative is delayed product differentiation, a hybrid strategy that reconciles the needs of high variety and quick response. In this model, a common product platform is built to stock and then differentiated into different products once demand is known. This allows manufacturers to take advantage of MTS cost efficiencies but still produce variety without keeping inventory on thousands of possible variations.
In traditional MTS operations, predicting inventory needs is a critical challenge. This is still an issues in late-stage assembly or other hybrid production models. Predictive modeling and foresight into buying trends and purchase triggers still must be managed. If you invest in too many raw materials, you tie up capital and take up space in the warehouse. Because of the fast pace of product introductions, you also risk your inventory being obsolete before it can be sold. On the other hand, if your inventory levels are too low, you risk being unable to fulfill an important customer order.
Four primary factors influence the amount of goods a make-to-stock company should carry in inventory. Each of these is supported by advanced, modern ERP solutions.

Replenishment time: You know you need to carry enough stock to cover demand over the replenishment time, including possible spikes. In traditional MTS thinking, if your lead time is two weeks, you need inventory that can last two weeks while you wait for the next shipment of raw goods to arrive. Modern ERP solutions with advanced business intelligence and visibility to your supply chain partners let you cut replenishment and anticipate demand more accurately. Rather than carrying a large "safety stock" level of inventory, you can move closer to just-in-time inventory.
Production lot size: When your typical production lot size exceeds the typical order quantity, some amount of finished goods will remain in stock between deliveries. This can become expensive, especially if the inventory becomes obsolete. You can increase operational efficiency if you can adapt your lot sizes to more accurately meet demand. This often means smaller lot sizes. Modular design principles can be deployed, as well, so the large lots sizes are maintained for the "core" product modular, and smaller lot sizes are used for the late-stage details or accessories. This hybrid approach allows the best of both worlds: large lots sizes of cost savings and small lots sizes to minimize inventory.
Production reliability: If you have subpar quality control and product reliability, you need a larger safety stock to ensure you have ready-to-ship inventory. Improving quality control will mean your inventory and production schedules are more reliable, with less waste. You can be more precise in your planning.
Variability of demand: Without accurate predictive analytics, you have to be ready for anything and carry a wide inventory. This is costly. Using advanced business analytics, you have a closer estimate of buying trends and buying triggers. The more accurately you get to know your customers and their buying habits, the more accurate you can be in forecasting. Business analytics and customer relationship management software are the tools you need.

Larry Korak is the Industry & Solution Strategy Director for Manufacturing at Infor. For more information, visit www.Infor.com.