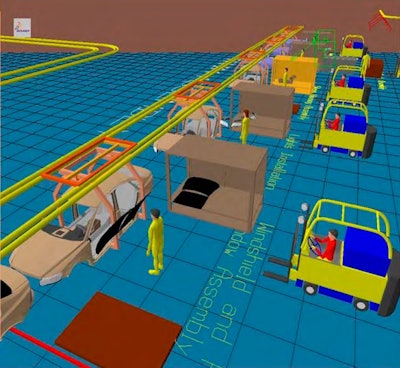 Technology is now embedded into products in every industry, making it almost impossible for automotive, aerospace, or defense manufacturers to go to market without products that include advanced software and electronics.
In their recent report on disruptive trends that will transform the auto industry, McKinsey & Company predict the accelerated rise in new technologies - along with other factors - will bring forward four technology-driven trends in the automotive sector:
Diverse mobility
Autonomous driving.
Electrification.
Connectivity.
These trends introduce new technologies to automotive manufacturers and include several new supply partners, components and assembly requirements that weren't previously a part of producing new cars and trucks.
The aerospace and defense industry is another area heavily impacted by the integration of high technology to its product development processes and overall value chain. The impending delay of the F-35 Lightning II, the fifth-generation fighter jet from Lockheed Martin, is one example of the very real impact high technology has on manufacturing supply chains. In December, the Pentagon's top weapons tester released a report noting that the F-35 stealth fighter jet won't be ready for use by the July 2017 completion deadline.
One reason for the hold up? The manufacturer missed a critical deadline for deploying 3F, the final software release needed to complete the eight million lines of sophisticated software code that underpin the F-35.
Developing complex products with embedded electronics requires specialized expertise--and this expertise is rarely found in a single company. The era of the vertically integrated manufacturer where all production happens under a single roof is long gone. High-tech companies have evolved from sellers of electronic components to developers of modules and systems that offer solutions for manufacturers. This is a necessary evolution as manufacturers don't always have the required intellectual property, equipment, or processes in place to build the features and capabilities customers demand.
The integration of high tech into their supply chains has introduced new business and production challenges, including:
Procurement management issues. The pool of potential suppliers is suddenly much larger - and unknown. Supplier criteria that has been developed for nuts or bolts suppliers won't work with high tech hardware and software vendors.
Inventory management issues. High tech products offer enormous potential profits. But reaching for those profits will dramatically increase supply chain risks as high tech functionality is sourced, accumulated, and potentially becomes obsolete before finished-product sale. You need to find a way to guarantee on-time deliveries without over-investing in inventory or putting customer deliveries in jeopardy.
Synchronized logistics and production/assembly issues. Managing the volatility of high tech demand and supply can overwhelm logistics and production schedules and negatively impact key metrics that define the core product, including quality, safety, costs and delivery metrics. Rapid development of products with high tech functionality will require greater visibility throughout the supply chain and faster, more agile logistics and production processes.
New Ways for New Tech Challenges
Manufacturers looking to integrate high tech supply chains must leverage new best practices and technologies to find partners, and ensure they perform as expected. Here are a few things to consider:
Pick the right supply chain partners. Digitally enabled products require higher standards for supplier quality and performance. New information technologies, such as business analytics, can collect and assess data on supplier performances, corporate stability, and existing business relationships. Manufacturers should also audit and monitor suppliers' internal processes to ensure compliance, and look for a willingness to collaborate on new products and markets.
Monitor supply chain production and compliance. It's critical for executives to have visibility into supplier production sites - including inventory levels, quality specifications, and safety and environmental practices. Fortunately, supply chain management applications can bring even distant vendors to a manager's desktop. In the same way these executives walk the floors of their own facilities, they must digitally "walk" through their suppliers' facilities to uncover issues that could damage delivery, costs, quality, or their brand.
Track and coordinate parts and components. Cloud-based global positioning systems (GPS) and radio frequency identification (RFID) technologies can help manufacturers track products en route from suppliers, allowing them to better coordinate production schedules. These technologies also cut costs via improved inbound and outbound transportation routing and can monitor products for quality conditions such as temperature, light, and vibration. Savvy manufacturers also will leverage the same technologies to track downstream logistics as goods move toward customers.
High tech offers unprecedented opportunities for manufacturers to dramatically differentiate their products and gain a competitive advantage. However, manufacturers need to adjust their supply chain systems and business practices to make sure they can efficiently incorporate high-tech suppliers and the components they provide. Preparing now to accommodate high technology manufacturing processes and procedures will help mitigate delays and contract challenges in the future.