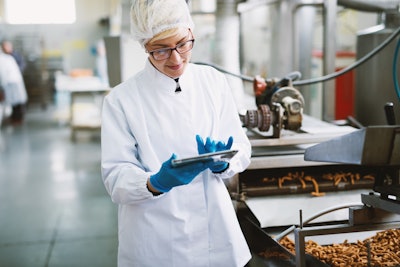 If food and beverage companies want to keep operating, they need to have food safety plans that are in compliance with the FDA's Food Safety Modernization Act (FSMA). That much is clear. But in order to do this, food safety and quality assurance (FSQA) managers must first figure out which regulations apply to their facilities and then put appropriate measures in place to reach compliancy.
Navigating this feat can be daunting and fraught with uncertainty. However, in the years since FSMA was first enacted, many companies updating their food safety plans took a critical look at the traditional methods used to manage the safety and quality of the food produced. While these companies were identifying the gaps in their plans in relation to FSMA's requirements and incorporating the new food safety procedures into their overall programs, they found a tremendous value in digitally transforming their food safety operations. Specifically, those that began leveraging technology and automation to handle the influx of complexities and recordkeeping requirements found it helped to keep them compliant.
By automating a food safety plan, real costs can be saved by creating operational efficiencies that improve overall FSQA program management. But first, let's look at the several critical parts every FSMA-compliant food safety plan must have.
Key Components
Although each food and beverage facility needs to determine its own unique food safety plan, there are six core components that should be incorporated into every FSMA food safety plan. First, an operation must have a plan that is not only written, but followed with demonstrable proof that this plan is being implemented and monitored on an ongoing basis. This plan must identify all potential hazards throughout the supply chain and assess all risks, including biological, chemical and physical, that are reasonably likely to occur.
Once these risks are identified, controls must be put in place to mitigate them. The Preventive Controls FSMA requirement not only includes hazard analysis critical control points (HACCP), but also encompasses factors such as process controls, allergen controls, sanitation controls, training and recall plans.
After the Preventive Controls have been put in place, the controls must be actively monitored, verified and validated. During an audit, the plan will be required as well as documented proof of the ongoing tracking of the food safety plan. If the Preventive Controls do fail, companies must have Corrective Actions and Preventive Actions (CAPA). An important part of a FSMA food safety plan is to identify CAPAs before an incident occurs so companies will know what remedial actions to take and do so promptly.
Finally, companies must document all food safety activities. As the FSMA saying goes, "If it wasn't documented, it didn't happen." Facilities should be able to tell a narrative about their food safety plan and show they not only understand the plan, but that active management is taking place.
Automation for Complexity
Endeavoring to manage these core components can be labor intensive and could require many hours of manual data entry for analysis. FSMA software can help operations keep track of numerous specifications and automate scheduling of tasks related to the food safety plan, such as the Preventive Controls, standard operating procedures (SOP) and supplier requirements. Keeping track of suppliers and, if materials from outside the US are used, fulfilling FSMA's Foreign Supplier Verification Program requirements can become complicated via analog processes due to the extensive supply chain.
When keeping tabs on multiple facilities, digitally tracking products and product groups produced at various plants can be extremely beneficial. Because all information is collected in one centralized place, the dashboard allows easy access to data, including monitoring, trending and auditing, for those who need to see a robust view of all operations in real time. Additionally, having the plans readily available via one system can not only help to ensure food safety, but also provide the tools and data needed to support continuous improvement, which can lower operational costs and increase the bottom line.
When ready to automate an FSMA food safety plan, companies should look for a system that:
Can support many different plans.
Allows for the set up of all components of the food safety plan and data sources associated with it.
Can automate any type of scheduled task, such as sanitation and renewals or revisions of program components.
Includes a verification program that analyzes, in real-time, all program data collected, such as safety assessments from mobile forms or test results from a lab.
Will time- and date-stamp every record collected, with eSignatures where required. These records should be accessible from a central repository of data. Plus, make sure every document from any location can be accessed through a secure login from any laptop, smartphone, desktop or tablet.
Systems that perform these essential functions not only aid in keeping track of and ensuring completion of FSMA's in-depth documentation requirements, but also help create efficiencies and return a greater amount of capital on investment.
Roger Woehl is the Chief Technology Officer of SafetyChain Software.