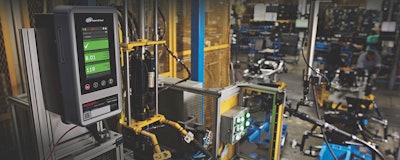 In 2019, as the manufacturing industry progresses further into Industry 4.0, it is imperative that manufacturers have tools and systems that provide them with actionable insights, and that are capable of capturing the data they need to inform decisions on the line.
Over the next year, there are three key manufacturing trends that will influence decisions on manufacturing tool and equipment purchases for assembly applications. The right tools and equipment help to provide actionable insights. Simple, yet capable, assembly tools enable manufacturers to quickly analyze data and make decisions, and ensure workers are comfortable.
Trend No. 1: Cloud-based manufacturing execution systems
Efficient manufacturing plants will deploy software systems and technologies that integrate with one another. In 2019, more and more manufacturers will implement cloud-based manufacturing execution systems (MES) that integrate smart tools with software systems to track data such as torque, timestamps and more. Manufacturing execution systems will become integral to processing the ever-increasing amount of data being collected in manufacturing and reducing the complexities of working with multiple technology platforms.
With this capability, manufacturers can program meaningful thresholds and data triggers based on their rate of throughput, rework, etc. With MES software, manufacturers can analyze their processes and shows if they have met their goals and parameters they set. If manufacturers are not meeting the goals, the software allows operators to analyze all of the technology integrated with the system to determine the root cause. For example, it can pinpoint which tools, processes, parts or stations are causing delays. Even if manufacturers don't need the software now, having tools that are capable of integrating with an MES system in the future saves invaluable transition time and overall investment.
Trend No. 2: Making "dumb" things smart
Although smart tools that collect and report data have been on the market for a decade, they are still not pervasive in all manufacturing environments, and many manufacturers are still using few or no smart tools. So, the trend toward adopting connected tools will continue in 2019 and for many years to come. Barriers to adoption of smart tools still exist—not the least of which is the fear and intimidation of adopting new methods—as well as failures manufacturers often experience when they try to adopt too much technology too quickly.
Instead of changing over everything at once, manufacturers have the option to implement a smart tool system, and then incrementally add functionality over time. This is a valuable lesson some major manufacturers learned over the past year when they changed their entire manufacturing system over at once. Unfortunately, many times this didn't work, and companies needed to return to a less-automated process, causing delays and resource issues. By taking a step-by-step approach instead of putting all of the eggs in one basket, manufacturers will be in a position to make better future decisions in a rapidly evolving manufacturing environment.
Lastly, as manufacturers assess smart tools, they should keep in mind that just because extremely advanced systems are available, it doesn't mean they are best for their operations. Yes, it is imperative that they have tools and systems that ensure quality throughput and seamless processes, but manufacturers don't necessarily have to invest in the most complex, premium solution to get a tool system that works for their assembly needs. Taking control doesn't have to be complicated. The simplest solution can often be the best solution.
Trend No. 3: Increased focus on tool ergonomics
There variety of reasons manufacturers are renewing their focus on ergonomics. Believe it or not, operator safety and securing fasteners go hand-in-hand. Depending on fastening needs, tools impact the amount of force an operator experiences when working on the line. Well-designed manufacturing tools that are lighter, quieter and have less reaction ensure operator safety. With the right tools, manufacturers can have peace of mind that they are providing a safer working environment for its employees. Additionally, uptime requires experienced workers. When workers are hurt, there is great cost that lies in training someone new or slowing the process down altogether. The price of poor ergonomics is more significant than just compensation expenses—it also contributes to uptime and quality output.
In 2019, the industry will continue down the Industrial Internet of Things (IIoT) road and manufacturers will look for efficient ways to increase output and keep up with demand. A plethora of technologies and systems are out there—but manufacturers should evaluate what it is they truly need. As the year starts, it's a good idea for manufacturers to evaluate if their current tools will support, and integrate with, any system upgrades they need in the coming 12 months.
Jeff Lowe is Senior Global Product Manager at Ingersoll Rand Advanced Assembly Power Tools.