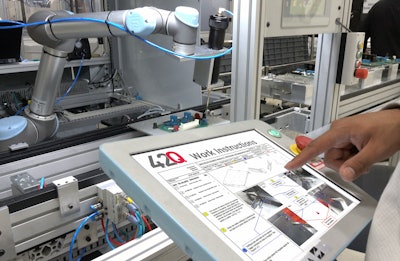 A 2016 study published by Genpact Research Institute found that 82 percent of manufacturing executives think a critical part of their future success will depend on the successful adoption of IIoT technology. Unfortunately, that same study shows that less than 25 percent have plans for adoption and deployment of IIoT projects.
With this in mind, 42Q, a leading provider of cloud manufacturing solutions, recently unveiled their Rapid IIoT Cloud Solution. The new offering looks to simplify the connection of PLCs, SCADA servers, IIoT devices, smart sensors and other production equipment by utilizing a cloud platform to help improve shop floor connectivity, real time factory data storage, and end-user analytics.
42Q's CTO, Srivats Ramaswami, recently sat down with IEN to discuss IIoT and other technology trends impacting U.S. manufacturers.
Jeff Reinke, IEN Editorial Director: How would you compare the level of IIoT implementation in the industrial sector today, compared with last year at this time? Three years ago? How does this differ amongst large enterprises and smaller ones?
Srivats Ramaswami, CTO, 42Q: We have seen an acceleration over the last few years in IIoT (or Industry 4.0) implementations, and that acceleration continued in 2017. In fact, one of our customers, Sanmina, announced late last year that they had reached a milestone of over 25,000 devices connected via the cloud (and 42Q).
While Sanmina is ahead of the curve in terms of scale, we've seen other companies continue to deploy IIoT technologies that include real-time process feedback and control and sophisticated vision systems for ensuring product quality.
As usual with new technologies, it's easier for large enterprises to identify a test area and assign resources, but we are seeing some small and mid-size manufacturers also implementing task automation and connected manufacturing.
JR: The cloud has been an option for a while – how do you think some of the security concerns surrounding it have impacted its use in the industrial sector?
SR: It's important to note that, while there have been press reports about "hacks" of major data and financial systems associated with consumer information (for example, the Equifax intrusion of July 2017), there have been no major breaches announced with regards to business systems - which are typically protected better than some other systems.
In fact, security has all but disappeared as an objection when we're talking to potential users. When we review security with our customers, they realize that a mature system like 42Q is actually MORE secure than their internal data architectures.
For example, we have never met a company who uses third party consultants to scan their code for vulnerabilities, or to detect potential intrusions into their systems. At 42Q, we do that, along with firewall monitoring, activity monitoring and much more. With a Chief Security Officer and a dedicated security team that is available 24x7, we monitor and manage our system security in a way that most internal IT organizations simply cannot match.
Additionally, the system was architected for a level of redundancy and uptime that simply cannot be matched by most manufacturing organizations. For example, the cloud storage system utilized by 42Q was designed for 99.999999999% durability and up to 99.99% availability of objects over a given year.
JR: When manufacturers initially begin to implement connected technologies, what data do you recommend they start looking at before branching out to more in-depth dashboards?
SR: There is a clear priority when it comes to collecting and collating data: look at factory floor data first.
Most of the machines on a factory floor are already data-capable, it's just that they're not connected to anything, and the data is never analyzed. We created our Digital Factory Starter Kit and Rapid IIoT Kit specifically to help companies get started with collecting and analyzing important factory data. These toolkits enable manufacturers to get started in just a few weeks.
With both products, they get real-time visibility into their plant operations, monitoring machine status and line yield. This visibility enables manufacturers to identify issues before they become non-conforming and take preventive action (rather than corrective action). This has a major impact on all manufacturing metrics, including throughput and quality.
JR: Looking forward, what technology do you feel has the potential to impact IIoT the most significantly?
SR: Without a doubt, the emerging technology that will have a major impact on IIoT is AI and its cousin, advanced analytics.
We're already seeing analytics making an impact in the area of predictive maintenance and problem solving. With new techniques applied to the data collected from the factory floor, manufacturing challenges that had previously proven intractable can now be resolved in a matter of hours.
Artificial intelligence, when applied to IIoT issues in manufacturing, will take this to the next level - identifying problematic trends and issuing corrective actions with no human intervention. 42Q is already working with several lights-out, no human touch factory lines that can replenish necessary components via autonomous, robotic vehicles dispatched from the warehouse.
It's only a matter of time before AI takes over the ordering of the components as well, interacting directly with suppliers. The next five to 10 years in manufacturing are going to see more changes than the last 50 years, primarily due to the application of AI.