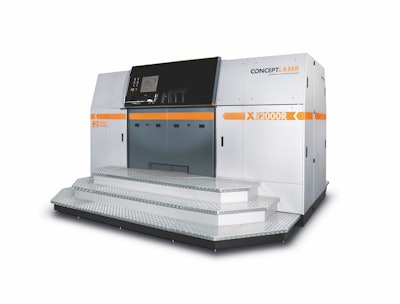 Livonia, Michigan-based Roush is a full-service product development supplier with over 4,000 employees throughout North America, Europe and Asia. The company is known for its innovative engineering, testing, prototyping and manufacturing services within the mobility, aerospace, defense and theme park industries. Oh, and then there's Roush Fenway Racing, Roush Performance and Roush Cleantech that develops and manufactures performance vehicles and alternative fuel systems.
So, it's safe to say that the company knows a thing or two about manufacturing and product development technologies. The company recently invested in the largest powderbed metal additive manufacturing system of its kind - the Xline 2000R.
Made by Concept Laser, which was acquired by GE Additive in 2016, the machine features a build envelope of 800 x 400 x 500 mm production of parts as large as engine blocks. IEN recently interviewed Roush's Brandy Badami to get some insight on the machine, how her company utilizes the technology, and the impact additive manufacturing could have on production strategies
Jeff Reinke, IEN editorial director: Could you offer a little background on Roush's history with additive manufacturing and 3D printing technologies?
Brandi Badami, Roush business development manager - additive manufacturing: Roush has over 20 years of experience with 3D printing/additive manufacturing, mainly in plastics/polymers. We started off with stereolithography (SLA), then selective laser sintering (SLS), then polyjet/objet technologies. Roush adopted 3D printing into our everyday practices with product development and rapid prototyping to support our design engineering and tooling groups.
As the technologies and materials advanced, we used additive manufacturing for functional prototypes, end-use components, fixtures, tools and gauges. Now, with the recent investment of new 3D printing technologies and equipment, including fused deposition modeling (FDM) from Stratasys and 3D metal printing (powder bed fusion) machines from EOS and Concept Laser (a GE Additive company), we are able to expand our reach within the aerospace, defense, entertainment and transportation industries.
JR: How will the addition of this machine change things on a day-to-day basis?
BB: The addition of the Xline 2000R has, and will continue, to open many doors for how Roush's core services (design, engineering, manufacturing and testing) will be able to secure our position as innovative leaders. On a day-to-day basis, the Roush team continues to "think additive" in everything that we do.
With the large build platform and continuous throughput that the Xline 2000R brings, we are identifying opportunities with customers who may have been limited in using additive previously due to the overall size and geometries of their product catalog, or having high volumes that prevented additive manufacturing to be looked at as a means of production.
JR: What do you feel are the leading benefits of the technology – from a non-prototype, finished product perspective?
BB: The biggest advantage of additive manufacturing is the freedom of design. By lifting the design constraints of traditional manufacturing methods, additive provides endless opportunities. Additive manufacturing permits complex and intricate geometries that cannot be produced by any traditional means.
The key to being successful with additive is to take advantage of that design freedom. Being able to produce lightweight components by using organic lattice structures, or exotic geometries, is a huge advantage. Also, being able to combine multiple components into a single part is game-changing.
We are able to take a part that used to have multiple components and seal locations — which had to go through several post-processing steps like welding, brazing and assembly — and redesign that part for additive. Then we can print that component as a single part, allowing customers to have a product that performs better, is stronger and heads to market with a faster lead time.
JR: Most manufacturers are slowly integrating additive processes to their production scheme. What do you feel are key indicators that could signal it's time to expand the use of this technology?
BB: One of the biggest indicators I have witnessed is manufacturers and suppliers are now being pressured by OEs to incorporate additive into their everyday operations, or provide additive components and solutions in conjunction with their current, traditional offerings. Aerospace and medical industries have led the pack over the past few years when it comes to production components made with additive manufacturing.
Many of their engineering drawings include additive as the manufacturing method, which then limits which suppliers have the capabilities to manufacture those parts. With the enhancements in additive technologies, where machines are getting bigger and faster, and advanced materials are available, it is opening the door for other industries like automotive/transportation to now push heavily to use additive as a means of production.
Eventually, in order for some manufacturers to stay relevant, they will need to expand their additive capabilities and expertise in-house. Which is exactly why Roush has made the significant investment in additive manufacturing, and continues to support the growth and innovation of the technology.
JR: If you could push the fast-forward button on additive manufacturing, in what area would you like to see the most improvement or advancement?
BB: I'd love to see machines that are more "plug-and-play," especially in the metals arena, that reduce the need for users to spend significant time, money and resources on R&D of the equipment and parameter development. Expanding machine capabilities in terms of speed is a huge wish as well.
Although the machines have been making strides in faster 3D printing, if we can accelerate that across multiple technology platforms, it will allow for more end-use production possibilities for all industries, especially those with higher volumes. Continuous throughput is another area where I'd like to see advancement. If we can keep pushing the machine manufacturers to think of full-scale production, autonomous capabilities and around-the-clock operations that include post-processing, it will really align with 'Industry 4.0.'
At the end of the day, additive manufacturing is growing (no pun intended) rapidly and the coming years will really be fascinating. Hopefully it will continue making an impact and change the landscape of manufacturing as we know it.