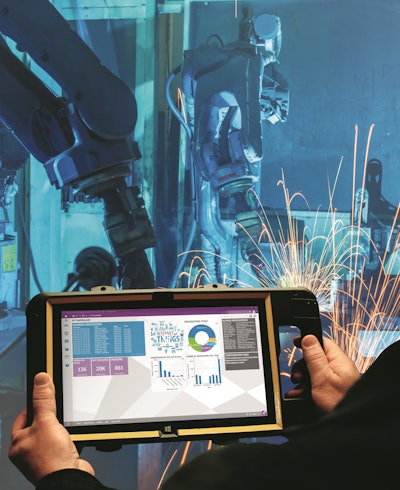 According to a 2013 IDC study, only nine percent of North American equipment manufacturers were expecting increased revenue from aftermarket services, compared with 15 percent globally. As aftermarket services are less vulnerable to hiccups in comparison to sales of capital equipment or durable goods, it should become a more important focus moving forward.
There are five areas manufacturers must focus on to drive their aftermarket services and optimize operations.
1. Wearables Offer a Helping Hand
While consumer applications such as social media are designed to encourage users to spend time in the system, aftermarket service applications need to be designed to limit the time a technician spends interacting with the application.
With little manual interaction, a technician equipped with appropriate software can record the completion of work, request spare parts in inventory or seek guidance from colleagues. They may also be able to communicate with a customer with a simple tap on a wearable device.
A more advanced system could also place geofencing in a GPS system, so these communications are sent automatically as a technician leaves an office or arrives on site. This reduces the amount of time technicians spend manually interacting with the technology.
These communications can also reduce costs by automating service level agreement (SLA) reporting. You will have a digital record of how quickly a technician was on site after a service request was made.
2. Embedded Knowledge Base
A number of industrial sectors and asset-intensive industries are seeing their skilled workforces nearing retirement age. Organizations are scrambling to replace not only the headcount of their retiring workers, but to retain the latent knowledge these individuals have accumulated.
According to a 2015 Service Council study, 46 percent of organizations said they had unfilled vacancies for field service technicians.
That is why FSM software will increasingly include product manuals, instructional videos, blueprints and FAQs embedded in relevant screens.
Augmented reality will also become more common. Using this technology, engineers equipped with Sony's SmartEyeglass or other head-mounted devices can collaborate with associates hundreds of miles away, getting guidance on key processes or challenging issues.
All these methods of embedding knowledge in the software application can increase first time fix rates and reduce time-on-site.
3. Overcoming the Reverse Logistics Challenge
Aftermarket service organizations often need to plan for products, parts or subcomponents to be taken from a customer site and back into inventory. Inefficient reverse logistics can drive unnecessary costs and harm customer satisfaction.
There are four areas of reverse logistics organizations should focus on:
Return for Repair: Handles the shipping of a product, part or subcomponent to a designated repair center so the item can be returned to the original customer once it has been repaired.
Return then Swap: A transaction where the unusable product or part is shipped to a designated repair location, found to be non-repairable and then "swapped" for a new item.
Advance Exchange: A challenging and complex transaction where a new or refurbished product or part is shipped to the customer to replace an unusable product or part, which the customer returns after receipt of the new or refurbished item.
Return Only: When unusable or undesired products or parts are returned without any replacement process.
Lacking suitable software functionality, an aftermarket service team can stumble as they find replacement inventory is not available, the ownership of the part is not recorded, or they are unable to determine if parts are in warranty. However, with a solution that feeds real-time data on asset lifecycles and parts availability, a service department can function more efficiently.
4. IoT Enabling Predictive Maintenance
IoT can enable an aftermarket organization to extend their services beyond scheduled maintenance to condition-based or predictive maintenance.
For example, if a sensor on a compressor detects several faults that would likely damage a valve, a technician can be dispatched and parts automatically ordered without human intervention. Service or maintenance actions can be triggered by any number of performance criteria.
In addition to monitoring the performance of individual assets, IoT may also collect data about equipment in the aggregate, creating large amounts of information that can be analyzed and modeled.
This accumulation of equipment performance enables comparisons of assets with others of the same type or model. This helps service providers identify individual units that are operating outside the norm so corrective action can be taken proactively before a fault occurs.
5. Track and Trace
Not every software tool sold to an aftermarket service organization will provide extensive support for per-asset tracking. Yet this functionality is essential for industries where traceability is required for regulatory or other purposes.
Per-asset tracking may be essential in a number of situations. A capital asset being serviced may require a detailed maintenance history. But serial tracking of parts and components, the frequency and duration of each service visit and even the qualifications of the technician may be needed for compliance or audit purposes.
This is best achieved if the solution used for service is integrated with the functionality used during production. This will allow for full asset lifecycle management and traceability from cradle to grave, which may be required for regulatory or risk management purposes, and certainly will allow an aftermarket service team to deepen their relationship with the customer.
Christine LaVoi is the Senior Client Manager for North America at IFS.