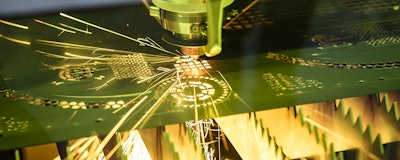 Now more than ever, manufacturers are pressured to stay on top of technology trends, navigate an increasingly complex regulatory environment and deal with the ripple effects caused by wavering tariffs, all the while maintaining overall business momentum. In fact, in a U.S. manufacturing industry survey commissioned by ECi Software Solutions, respondents overwhelmingly selected emerging technology and tools as the top external force enabling them to make changes to their business model or operations in the last 12-18 months. Unfortunately, that same survey found that 34 percent of manufacturers listed a lack of internal expertise as a barrier to technology adoption.
From automation and blockchain to VR and IoT, there are so many new and buzzworthy tools on the market today intended to address the challenges U.S. manufacturers are facing. However, with so many opportunities for adoption, it's difficult to discern which tools are driving operational efficiencies and which ones are all hype.
To help manufacturers understand the tools available on the market and their perceived value, ECi's survey polled U.S.-based medium and large manufacturers on the ways they are leveraging emerging and mainstream technology in their operations:
Artificial Intelligence (AI) – While it was once referred to as a threat to jobs, AI is poised to increase productivity and quality of life for workers. When applied correctly, the software offers more accurate, real-time predictive maintenance and can project market demand. According to the industry survey, more than 50 percent of respondents currently use some form of AI in their manufacturing processes while, of those that don't currently use AI, 56 percent noted that they plan to in the future.
Business Process Automation – Automation in manufacturing is about reducing the amount of human intervention as much as possible, bringing uniformity to certain processes, saving time, achieving standardization and compliance and creating a more connected business. Once implemented in their business processes, automation has been proven to reduce errors and improve accuracy (64 percent), reduce manual effort and paperwork and increase productivity (63 percent) and improve overall visibility and control of the enterprise (56 percent), according to manufacturing survey respondents.
Drones– Drones can be used for asset location and cycle counting within warehouses which improves overall visibility and control of enterprise processes. Of the emerging technologies included in the survey, drones were seen the least in current company processes (12 percent). However, an average of 33 percent of respondents shared that they were somewhat interested in implementing drone technology into their business in the near future.
Blockchain – This technology can effectively increase visibility across many areas of the manufacturing process, starting with suppliers, strategic sourcing, procurement and supplier quality, and including shop floor operations such as machine-level monitoring and service. While the majority of respondents (62 percent) claimed that their company does not currently use blockchain, of that group, 50 percent say their company plans to use the technology in the future, likely due to its positive impact on their IT security and overall cost savings.
Augmented Reality (AR)/Virtual Reality (VR) – AR and VR provide an interesting look into manufacturing business processes. A warehouse can use AR in tandem with AI to locate products, scan them into the system and even determine if they have the right item. AR allows manufacturers to complete their processes much faster and more efficiently than previous methods. VR has been seen to help staff training and education as well. New hires and trainees can use headsets and goggles that broadcast the pertinent information directly in front of their eyes, freeing up hands to take notes and complete tasks. According to the ECi survey, an average of 32 percent of respondents are not currently using AR or VR but are very interested in exploring the technologies' capabilities.
ERP (Enterprise Resource Planning) – Amidst the emergence of these new, innovative technologies, manufacturers are still recognizing the operational necessity of having an ERP platform integrated in their daily processes. According to ECi's industry survey, 89 percent of surveyed manufacturers use ERP or business software in their businesses, most notably to automate processes for increased efficiency, to reduce manual effort and paperwork and to improve visibility and control of enterprise processes. ERP also plays a hand in managing fluctuations caused by tariffs. According to the industry survey, 52 percent of manufacturers confirmed that their ERP system has been effective in helping them manage the impacts of the tariffs. Specifically, they stated that it provided more visibility into their supply chain (as indicated by 70 percent of respondents) and provided more opportunities for resource planning (as indicated by 60 percent of respondents).
The manufacturing industry, by nature, is highly complex, which makes innovation essential to a manufacturer's ability to sustain its business and compete successfully. In order to keep up with the demands of the industry, the manufacturer must be flexible and efficient. However, with the obstacles of imposed tariffs, complying with fluctuating government regulations and determining smart digital investments, navigating the course can become much more complicated. Plus, with new tools like AI, blockchain, drones and robotics starting to capture manufacturers' attention and claiming to help alleviate the stress of the industry's obstacles, the ideation of market success can become jaded. In order to ensure readiness, manufacturers should assess their current tech stack, like their ERP system, to guarantee it is capable of scaling with them as they navigate changing market opportunities. The most effective way for manufacturers to address challenges and enhance their business processes is to embrace innovation and react swiftly and strategically. Instead of scrambling to implement the next "big thing," manufacturers should take a step back and examine their business operations, identify areas for improvement and determine the tools needed to help them achieve their goals.
Jeff Ralyea is president of the Manufacturing Division at ECi Software Solutions.