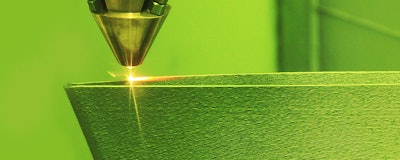 Manufacturers stand at a crossroads of two competing visions. They can either continue with traditional factory processes or they can embrace the challenge of Industry 4.0 and create physical products with a fully digital ecosystem. For those who embrace digital, the industrialization of additive manufacturing (AM) is key.
Traditional factory processes have been fine-tuned over the years for process repeatability, part durability, efficient workflows, and low operational costs. These processes predate the digital revolution. Many times these processes also include high labor costs, significant up-front production costs, and safety issues. Today, new marketplace demands are pushing industry to increase speed and agility. Competitive pressures require shorter production cycles and fast product ecosystem evolution. The industrialization of additive manufacturing will allow companies to respond to these demands with digital speed and accuracy.
Digital processes have an undeniable ability to drive down operational costs, especially when applied across all processes and not in a selective fashion. Key 3D printing technologies are ready to serve as the strategic backbone of industrial innovation. New materials, technologies, design solutions, and digital workflow processes are readying the factory floor to become the Digital Factory.
Additive manufacturing is disruptive by nature, impacting both supply chain and manufacturing processes. AM business analyst Dr. Wilderich Heising of Boston Consulting Group sees a shift taking place in AM. In prepared remarks at the Formnext Conference in Frankfurt in November 2018, Heising said process optimization in manufacturing is driving new speed capabilities in AM. He said the ability to increase build rate by up to five times at the same quality translates into a total reduction of machine cost per part by more than 50 percent. Such increases will mean break-even production costs can move to much higher volumes than available today.
Manufacturers will invest in Digital Factory technology when they see it bringing a balance of innovation and ecosystem maturity. For some that means lowering labor costs and improving safety. To others it means the ability to create previous unbuildable parts and to rapidly move from one product design to another. For most manufacturers, printing in production volume will be the fundamental and constant disruptive benefit. Industrial giant Siemens, for example, has published a research forecast, which predicts metal additive manufacturing will become 50 percent cheaper and 400 percent faster over the five-year period ending in 2023.
The use of 3D printers as point solutions to specific problems has been a good way for companies to become familiar with the power of additive manufacturing. The rise of platform-centric additive manufacturing means companies can now innovate the complete factory process, resulting in increased agility, reduced complexity, and lower total cost of operation (TCO).
Platform-centric 3D printing solutions make production volume possible. These production systems offer fully digital manufacturing optimization, capable of complete production runs of thousands or hundreds of thousands of parts—and the last part in the run is of equal quality to the first, without the need for costly and lengthy tooling changes.
Business analysis firm SmarTech Markets converts this increased production capacity into dollars and cents. For civil aviation manufacturing, SmarTech Markets expects the market for AM (hardware/software/services) to grow to $4.3 billion in 2027. SmarTech Markets expects this seven-fold growth in revenue to largely be driven by an expected increase in the use of AM for part production as well as steady growth for civil aviation products.
The industrialization of additive manufacturing is about more than the individual part: it includes the processes surrounding it. Post-processing of 3D printed parts is being transformed as support removal, curing, washing, and other steps are automated or replaced by technical innovation. Depending on the application, the Digital Factory approach to post-processing will lower TCO as much as design innovation or lower material costs.
Manufacturing innovation starts with design innovation. The existing generation of design software brings digital efficiency to individual steps. New software products from both established AM vendors and startups are delivering design tools to create parts optimized for 3D printing, resulting in superior performance at lower costs. The need for prototypes is reduced, parts are topologically optimized for strength and weight, and there is an unbroken data flow from initial concept to manufacturing and part certification.
Advanced manufacturing markets such as aerospace and healthcare are already adopting platform solutions; other industries are now taking a closer look. Even with the current growth, such Digital Factory installations are still at the early stages of adoption. The coming year will provide more reasons for manufacturers to embrace the industrialization of additive manufacturing, such as new polymers, lower thermoplastic costs, and increased access to metals suitable for replacing traditional foundry processes.
The industrialization of additive manufacturing won't happen by accident. The Digital Factory approach to metals, for example, will not be an immediate solution for all metal manufacturing. 3D printing vendors and manufacturers must work together to examine part production as an end-to-end continuum, looking to drive innovation into every step of the process. The 3D printing industry is filled with tales of engineers and product designers discovering innovative applications not envisioned by the 3D printing manufacturer. We believe the industrialization of additive manufacturing will follow a similar serendipitous path to the future.
Manufacturers today have an opportunity to rewrite the rulebook and seize competitive advantages in the Industry 4.0 era. Engineers and executives can work together, finding ways to make better products faster and at lower costs. New products, new factory processes, new business models, and even new companies will be the natural result for those who embrace the industrialization of additive manufacturing.
Phil Schultz is executive vice president of Operations at 3D Systems.