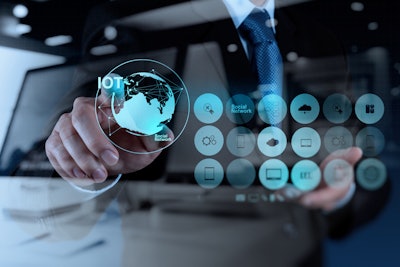 Commonly referred to as the fourth industrial revolution, Industry 4.0 describes the current trend of automation and data exchange in manufacturing technologies which includes cyber-physical systems, the Internet of Things (IoT), cloud computing and cognitive computing.
Industry 4.0 is paving the way for the "smart factory of the future," where cyber-physical systems monitor physical processes, create virtual copies of the physical world and make decentralized decisions. Over IoT, systems communicate and cooperate with each other and manufacturing personnel in real-time both internally and across organized services offered and used by those in the value chain.
Early adopters are already succeeding with new Industry 4.0 initiatives. For example, a large multinational industrial conglomerate leveraged these capabilities to understanding production quality in real time and predict product quality to reduce the need for end of the line testing and increase yield. And, a major automotive OEM (original equipment manufacturer) analyzed data from multiple pieces of production equipment and used the data to predict quality exceptions 20 to 30 minutes before they occurred to take remedial actions in advance and removed the quality defects.
Most manufacturers are eager to harness the power of Industry 4.0 to drive innovation, efficiencies, improved customer service and cost savings, yet first they must embrace core enabling technologies — namely IoT devices and sensors, automation, artificial intelligence (AI)/machine learning and analytics — to make that happen. IoT is essential to Industry 4.0 because it provides bi-directional communication that ensures not only status can be received but also that information can be sent to change the machine performance, even on a unit by unit basis when needed. Analytics provides the foundation for understanding machine condition but also is used to determine more advanced needs such as determining machine performance as it relates to maintenance needs and production quality requirements in real time.
Also essential to Industry 4.0 is predictive analytics which is used to determine future maintenance needs from a long-term perspective while also driving short-term quality requirement prediction to improve production yield. Lastly, machine learning and AI must be used to ensure predictive algorithms remain accurate by identifying operating changes and applying them to algorithms.
Most manufacturers are behind the curve when it comes to adopting these core enabling technologies. The early adopters that have implemented them have realized early success and are in the process of scaling these technologies widely across their factories. These manufacturers have learned some early and important lessons about how to best evaluate these technologies and determine which approaches are best for their particular organization.
Best Practices for Evaluating and Implementing IoT, Automation, Machine Learning/AI, Analytics
Evaluating these core technologies is a relatively simple process. Successful early adopters in the manufacturing space have followed these steps:
Understand Device Management Capabilities

Understand all of your device management capabilities immediately as security and connectivity rely on this important area. Without it, your IoT implementation is doomed.

Embrace Multiple Deployment Options

First, understand the capabilities of multi-tenancy and make sure you have multiple deployment options for the cloud, on-premise and edge in order to support multiple deployment options which your factory or manufacturing floor will likely need.

Get Ready for More Advanced Analytics

Closely examine your analytics capabilities and ensure that your widgets can be easily used for simple analysis while your IoT platform is capable of handling much more advance algorithms.

Connectivity Is Still Key

Understand you need connectivity to enterprise systems to enrich data with context but to also share performance data throughout the manufacturing enterprise.
Culture Change Requirements
Some manufacturers have been wondered if there is a culture change involved when new technologies must be implemented and embraced. Culture change needs vary from organization to organization, but the most predominant change needed is the ability to focus on the possible, not just on the blueprint. Specifically, organizations must have more than an understanding of the ROI they wish to achieve or the desired outcomes of the implementations. Manufacturing teams must share a complete vision of what they hope to achieve along with a step-by-step execution plan of how they will reach goal, with the caveat that new learnings and critical needs will occur on this transformational journey. This mindset is new for the typically risk-averse manufacturing industry as it is more akin to the startup world and can be tough to maintain. However, it is important for teams to remain flexible in their thinking when implementing ground-breaking technologies like IoT, predictive analytics and AI.
Other Best Practices
With IoT, traditional best practices are still relevant, but they will need to be modified to follow scaled-back, iterative approach. Manufacturers should start by analyzing the collection of problems they wish to solve and define a business value for each. But rather than follow the traditional stage gate process of creating a complete multi-year IRR calculation, scale it back to a shorter, iterative ROI. This ROI is then tested based on short experimental implementation of the technology for a period of less than 30 days. This requires implementation of a minimum viable product with basic non-industrial grading sensors that are not meant to last years but are instead used to validate ROI before proceeding to a larger and longer technology rollout. Later on, scalability will be a key focus during the longer rollout phase.
Thriving in the brave new world of Industry 4.0 depends on the manufacturers' ability to embrace IoT, automation, AI, machine learning and analytics and scale those new technologies across the manufacturing enterprise. By following these best practices and a more entrepreneurial and experimental approach, manufacturers will create their own factory of the future in no time.
Sean Riley is Global Industry Director of Manufacturing and Transportation at Software AG.