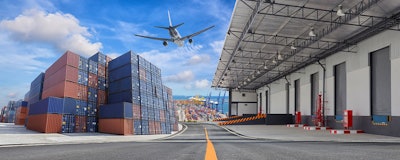 The concept of Distributed Order Management (DOM) emerged towards the end of the 1990s in the early days of e-commerce as companies struggled with the challenge to present one face to the customer regardless of which channel was chosen for interaction.
The issue of "one face to the customer" came to span the entire order lifecycle — from product information including pricing, availability, and total landed costs, order placement and order tracking, seamless delivery and/or pickup, integrating services such as installation with the delivery, enabling reverse logistics and ensuring consistent accurate billing. Over time, the need expanded to ensuring one face to the suppliers of a company's products and to carriers and other providers that the corporations need to deal with.
As awareness of this need grew, the number of providers attempting to address this challenge mushroomed. The category of software that came to be called Distributed Order Management was invented around 2000. Later providers took on approaches that reflected their own position in the market. Some offered a DOM solution as an adjunct to a Warehouse Management System. Others chose to tag it as the trailing piece of an e-commerce server. In the bid to differentiate their offerings, new nomenclature was introduced.
From Converged Commerce to Omnichannel Commerce Management, there have been many attempts to label this problem. But just naming it something different does not make the offering any different. Many companies have implemented their DOM solutions, not just in the retail space where it has become a pre-requisite to withstand the force of change that is Amazon, but in manufacturing and distribution as well.
Then Why Is the Situation Still Not Under Control?
Emulating a best practice for DOM is like driving a car by looking in the rear-view mirror — awkward, and not done very well. A best practice is usually another company's innovation. By the time the results of this innovation are known (and the strategy applied gets to be adjudged a best practice by gurus and industry analysts), the innovators have moved on to their next big thing while the laggards seek to solve their problems by implementing a "best practice".
The Amazon Tsunami
For over two decades now, Amazon has been a disruptor, eliminating investments in physical assets like stores and using their enormous market influence to force one retailer after another into bankruptcy. The belief was that a physical presence was a drag on overhead and nobody could compete with Amazon online might. Lo and behold, Amazon went physical. Initially this entailed stamping out state-of-the art fulfillment centers to achieve hitherto unachieved levels of delivery service while still reining in costs. Amazon acquired robotics to automate their fulfillment centers reducing dependence on seasonal labor surges. Then, as brands and big box retailers started to abandon malls in droves, Amazon surprised everyone by acquiring Whole Foods.
Obviously, Amazon never got the memo to follow its own best practices. It chose to go with physical stores when the world believed the best practice was to go online-only. It chose to invest in fulfillment centers when the trend pointed to outsourcing fulfillment operations.
Amazon has proven that continual innovation, repeatedly upending models in a seemingly contradictory way, is the only formula for sustained success. What will the grand disruptor do tomorrow? The only certainty is that Amazon will do something whether large or small that helps it get closer to its customers' needs at that time and even provide better service and value.
Making the Case for Distributed Order Management
DOM is a best practice that will stand the test of time. But the key is to realize this is a framework, not a static solution. A framework has to be capable of morphing to changing demands. Flexibility, visibility and control are hallmarks of successful organizations. The ability to intuitively mix and match these three elements to solve problems is what distinguishes the winners from the rest.
The key is to prioritize which problem is most pressing, then taking steps to fix it.
Historical boundaries in organizational functioning — such as distinguishing sales orders from purchase orders, or like treating returns as a pariah to be handled separately, or like having rigid rules around flows and events — need to be not just eliminated, but obliterated.
A working DOM system will enable seamless management of the customer experience. It ought to have been designed ground-up for adaptability and control over the customer chain. Each order ends up with its own micro-supply chain, whether it be a sales order, a purchase order, a return or any combination of them. DOM should optimize this micro-supply chain to maximize customer delight without causing unnecessary escalation in costs.
A DOM system that fails to offer such adaptability and control is a short-term solution. Organizations with such rigid systems mistakenly believe they have solved their Distributed Order Management problem for the future but find themselves locked into rigid scenarios good for solving yesterday's problem.
Benefits of Distributed Order Management
George Kembel of the Design School at Stanford University and co-founder of D-Global, remarked that today, generational changes that once passed every 30 years now occur every two years. Being innovative is about identifying the problems worth solving and adopting strategies of failing early to learn what works, then implementing such strategies quickly.
Companies benefiting from Distributed Order Management establish the scaffolding needed to help them anticipate evolving customer needs. The scaffolding is such that it allows rapid response to competitor activity, flexibility in the face of global geopolitical changes and evolving regulatory frameworks, and accommodation of evolutions in technology.
There's a need to separate actions from rules and ensure that rules can be adapted to changing needs and market dynamics. Regardless of the type and nature of order, a good DOM is able to initiate the right set of supply chain instructions to ensure the accurate, timely and cost-effective delivery of products. Relevant orders, whether to store, move or install/repair, need to be seamlessly integrated to allow for control over the entire process. It should not matter who performs a specific step, or how the nature of these players evolves in the future.
Buck Devashish is Chief Innovation Officer for MP Objects.