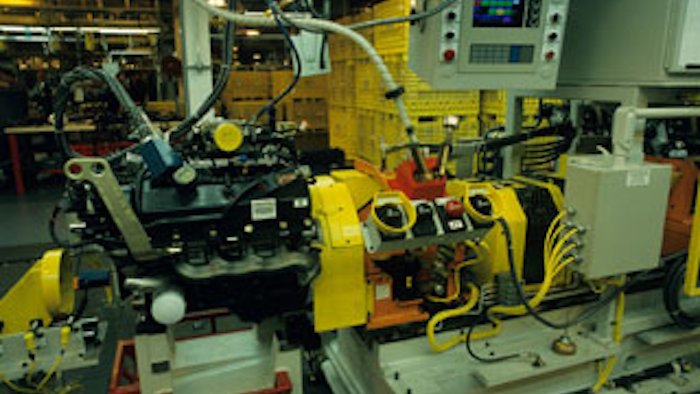 Ethernet has become the network of choice for most bottom-line-oriented manufacturing managers. As Ethernet advances technically, it is driving further out into the networks . . . in some cases, all the way to the sensors. The latest IMS Research report (Dec. 2011) forecasts worldwide growth of new Ethernet-based nodes will have a Compound Annual Growth Rate (CAGR) of 13 percent in the period spanning 2010-2015.
Ethernet provides standardization and future-proofing for industrial communications infrastructure, which leads to benefits including:
lower costs for components, installation and support
higher network reliability
compatibility between enterprise and plant communications systems, which streamlines information flows
shorter time-delays for detection of out-of-tolerance conditions
increased data flow for monitoring, controlling and managing operations more effectively
In order to take full advantage of the benefits of Ethernet, you need to choose the right tools to do the job. According to research from Growthpoint Technology Partners, fully 72 percent of network faults can be attributed to failure at the lowest three layers of the OSI (Open Systems Interconnection) model (Figure 1).  These faults can be reduced by using Ethernet switches and routers, cables and connectors that are all designed and installed in accordance with industry-specific requirements.
Operations personnel sometimes feel that they are making a wise decision by purchasing well known commercial switches or routers to do for industrial applications. However, these environments are more challenging than office environments. Industrial connectivity solutions need to allow for factors such as extreme temperatures, electrical magnetic interference (EMI), vibration, dirt, moisture and corrosion.
Commercial products tend to fail rapidly when exposed to conditions outside their operating tolerances, yet in industrial environments, unplanned shut downs on a factory floor cost upwards of $1,000 per minute. Consider the impact of unplanned downtime on a major deepwater offshore oil production facility: $15,000 per minute in lost production (calculated at US $90.00 per barrel). Any cost savings from using commercial-grade equipment, instead of the more robust industrial components, will be eliminated the first time there is a production failure.
One size does not fit all
Industrial Ethernet connectivity is not monolithic; there is great diversity in the requirements for industrial applications. The oil and gas market is concerned with flammables and corrosion. Power substations and heavy machining facilities must shield against strong EMI. Water treatment plants and food processing plants worry about humidity. Transportation needs to be concerned with vibration. A broad array of applications needs equipment that operates reliably under temperature variations or at temperature extremes, such as
out-of-door monitoring and management systems
unmanned remote locations
food and chemical processing plants
mines
Systems integrators and vendor representatives can assist in determining the right set of industrial connectivity product features for an application. Vendors that offer end-to-end connectivity solutions provide added value. Along with switches and routers, cables and connectors play a strong role in maintaining high reliability and uptime.
Switch and router considerations
Industrial Ethernet networking devices such as hardened Ethernet switches and routers have unique features compared with office-based Ethernet components. They come in a wide range of configurations. Depending on the application, a device may require one or more of the following:
extended temperature range
EMI protection
convection-cooled sealed packaging
power options other than AC
security features
protection from moisture or corrosive elements
port configurability
Industrial products are expected to be available as much as 99.9999% of the time—far in excess of the design specifications for commercial products. Also, it is not unusual in industrial applications to require Mean Time Between Failure (MTBF) ratings of a minimum of 15 years.
Cable and termination considerations
Choosing the right cable is as important as choosing the right switch or router. Commercial grade cable does not have the physical integrity to provide the consistent physical and electrical performance required for demanding mission critical industrial applications. Exposure to harsh conditions such as temperature extremes, moisture, ultra violet (UV), oil and corrosives can require protective jackets. Appropriate shielding for EMI and radio frequency interference (RFI) may be required to ensure that your installation works—and stays working.
Cutting corners in cable quality can lead to downtime and costly maintenance.  Twisted-pair cable, for example, is a staple in industrial environments. The cable is often installed where it is subject to twisting, stretching and bending, which can result in irregular gaps between the conductors. Gapping can impact signal integrity. Conductors in cables manufactured using Belden's Bonded-Pair technology are bonded along their longitudinal axis to guarantee uniform spacing. This bonding gives the cables greater immunity to noise, signal reflections, crosstalk, and other electrical variables.
Fiber optic cabling is becoming the transmission vehicle of choice for longer cable runs. It reduces susceptibility to EMI and is resistant to harsh weather conditions (including lightning strikes). Fiber is also preferable when cyber security is an issue because it is more difficult to tap into than copper.
Cables also need to be protected against crushing and puncture in hostile environments. Protective options are running the cable through a conduit (which can be laid throughout or between facilities) or using armored cables. Although either option provides a high level of safety for the cable, armored cables are easier to install and relocate
Use of proper connectors for network systems can facilitate installation and reduce repair time. Screw-type connectors are recommended when vibration is present. Sealed connections are most suitable for hostile environments where fluids, corrosives or dust are present.  Factory-assembled, factory-tested cord sets provide high reliability and reduce installation time.
Conclusion
Hardened Ethernet-based communications solutions are designed to operate reliably under harsh conditions. They reduce manufacturing costs and provide increased network reliability. By consistently delivering the right data to the right locations at the right time, they allow management to make better decisions regarding critical activities such as ordering, production run schedules and preventive maintenance. Investing in hardened end-to-end Ethernet-based connectivity solutions is an effective strategy for improving the performance of manufacturing facilities.
For more information on Belden Inc., please visit www.belden.com. 
---
Author bios
Larry Castelli has been working in the networking field for over 15 years, and currently manages the Belden utility sales for the southwest US region. He holds a B.S.  from St. Mary's College of California and M.A. from the University of California, Santa Barbara, both degrees in Physics, as well as an M.B.A. from Santa Clara University. He is a BISCI Registered Communications Distribution Designer (RCDD) and can be reached at larry.castelli@belden.com
Jim Krachenfels directs the marketing communications efforts the Industrial Solutions Division of Belden Americas Inc. He has more than ten years experience in marketing programs and product management in the networking industry, including positions at Cisco Systems and SPEEDCOM Wireless. Jim holds a B.A. in Economics from Northwestern University and an M.B.A. in Marketing/Computer Information Systems from the University of Michigan.  He can be reached at jim.krachenfels@belden.com