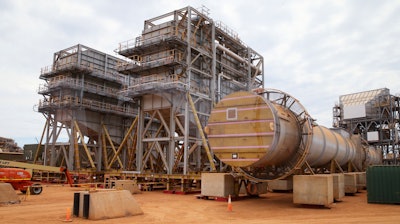 Ray Strange/AAP Image via AP
CANBERRA, Australia (AP) — Labor unions said Friday they will end disruptive strike actions at Chevron Corp.'s three liquefied natural gas plants in Australia that provide more than 5% of global LNG supplies.
Chevron Australia and the Offshore Alliance said they had accepted an arbitrator's recommendation for resolving a dispute over pay and working conditions. The alliance is a partnership of the Australian Workers' Union and the Maritime Union of Australia, which represents workers in the offshore oil and gas industry.
Neither side gave any details on the proposed contract terms.
The strike actions involve 500 unionized staff who have yet to accept updated employment contracts at the U.S. energy giant's three facilities in the Pilbara region of Western Australia state: Gorgon, Wheatstone Platform and Wheatstone Downstream.
The plants account for between 5% and 7% of global LNG supply and union unrest since Sept. 8 has affected global gas prices.
"The Offshore Alliance will now work with Chevron to finalize the drafting of the three agreements and members will soon cease current industrial action," the unions said in a statement.
Chevron said it had accepted the recommendation of the arbitrator who brokered the resolution, Fair Work Commissioner Bernie Riordan, to "resolve all outstanding issues and finalize the agreements."
"Chevron Australia has consistently engaged in meaningful negotiations in an effort to finalize Enterprise Agreements with market competitive remuneration and conditions," a Chevron statement said.
An Enterprise Bargaining Agreement is an Australian term for an employment contract on wages and working conditions negotiated and updated at the level of an individual organization, as opposed to across entire industries.
Chevron is the last major gas producer in Western Australia without a current agreement after employees at Shell, INPEX Corp. and Woodside Energy signed off on their own updated agreements.
Chevron announced this week that a fault at its Wheatstone plant that coincided with an escalation in union strike action had reduced its LNG output to 80% for three days.
LNG continued to be loaded on to ships and there had been no change to scheduled deliveries, Chevron said.
Wheatstone produces 8.9 million metric tons (9.8 million U.S. tons) of LNG a year.
The unions argued that less experienced non-union labor filling in for striking union members led to the reduction in output and cost Chevron more than the higher wages and improved conditions that are demanded.
The unions blamed incompetence of non-union labor for a four-hour delay in LNG being shipped from Wheatstone on Friday.