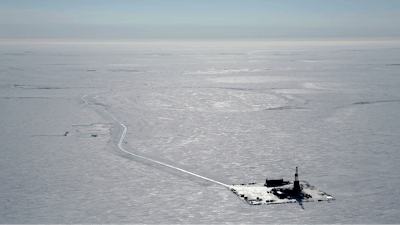 ConocoPhillips via AP, File
JUNEAU, Alaska (AP) — The Biden administration's approval earlier this week of the largest new oil project in years on Alaska's petroleum-rich North Slope was immediately met by lawsuits seeking to stop the Willow project.
Lawsuits filed by environmental groups and an Alaska Native organization seek to overturn Monday's approval of three drill sites and up to 199 total wells for the ConocoPhillips Alaska project. The lawsuits allege the U.S. government failed to adequately consider alternatives to greenlighting development.
WHAT IS THE WILLOW PROJECT?
The 30-year project could produce up to 180,000 barrels of oil a day. That is significant because Alaska's economic fortunes are tied to the boom-and-bust cycles of oil. The flow of oil through the trans-Alaska pipeline is a fraction of what it was at its height in the late 1980s.
Willow also is currently the largest proposed oil project on federal lands.
WHERE IS WILLOW?
Willow is on Alaska's remote North Slope, about 600 miles (966 kilometers) north of Anchorage.
It is in something called the National Petroleum Reserve-Alaska, which was originally set aside a century ago as an emergency oil supply for the U.S. Navy. The area has been overseen by the U.S. Interior Department since the 1970s, and there has been debate over where development should occur. The Biden administration last year limited oil and gas leasing to just over half of the federal lands in the nearly 23-million-acre reserve.
Alaska Republican U.S. Sen. Dan Sullivan has repeatedly argued it should be expected that oil and gas is developed in the reserve, emphasizing the name — petroleum reserve.
But environmentalists say the vast region is home to an array of wildlife, such as polar bears and brown bears, muskox, caribou and millions of migratory birds. They say the Interior secretary must act to protect and conserve wildlife and other resources in the reserve when oil and gas activities occur.
WHY IS WILLOW CONTROVERSIAL?
Environmental groups see the approval of the Willow project as a betrayal of President Joe Biden's 2020 campaign promises to end new oil and gas drilling on federal lands. They say it is out of step with Biden's goals to cut carbon emissions and move to clean energy.
Using the oil Willow would produce over 30 years would emit roughly as much greenhouse gases as the combined emissions from 1.7 million passenger cars over the same time period. White House officials said the project won't prevent the U.S. from meeting Biden's goal for reducing greenhouse gas emissions.
Many Alaska Natives say they support the Willow project because it will bring jobs and money to their communities. But some are opposed, concerned about effects on health, the climate and caribou.
Interior Secretary Deb Haaland opposed Willow as a New Mexico congresswoman before becoming Interior secretary. She said this week that Willow is a "difficult and complex issue" involving leases issued by prior administrations and that the Biden administration focused on reducing the project's footprint and impacts on people and wildlife.
The approval of Willow also called for ConocoPhillips Alaska to relinquish rights to about 68,000 acres of existing leases in the National Petroleum Reserve-Alaska.
WHAT HAPPENS NEXT?
ConocoPhillips Alaska has signaled it is ready to move forward. The company says it wants to immediately begin gravel road construction work.
However, lawsuits to stop the project are pending in federal court in Alaska and could delay activities.