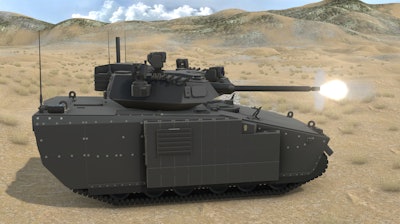 BAE Systems
BAE Systems is teaming with Elbit Systems of America, Curtiss-Wright Corporation, and QinetiQ Limited on its design for the U.S. Army's Optionally Manned Fighting Vehicle (OMFV).
The companies will work together to produce a combat vehicle designed to meet the U.S. Army's requirements for an agile, lethal, and survivable solution. The proposal was submitted to the U.S. Army earlier this month and today, BAE Systems announced details of how the companies are collaborating.
BAE Systems and Elbit Systems of America are leveraging their experience in the evaluation, demonstration, and validation of next generation combat systems. For OMFV, Elbit is providing its 50mm Unmanned Turret (UT50), a versatile armament configurations with multiple mission payloads and capabilities, which recently completed a successful live fire demonstration at the Aberdeen Test Center. The UT50 features a XM913 50mm cannon and a high-capacity ammunition handling system.
The OMFV design will use a standardized, Modular Open Systems Architecture (MOSA), designed by BAE Systems and Curtiss-Wright Defense Solutions. MOSA solutions are critical for enabling the customer to rapidly refresh technology to field new capabilities and meet emerging threats on the battlefield. The two companies are also providing vital electronics and control systems into the OMFV.
BAE Systems has invested in and collaborated with industry for more than 40 years to advance Hybrid Electric Drive (HED) technology. BAE Systems and QinetiQ Limited are developing and integrating the HED technology with an electric cross-drive transmission, a key component of an HED system for tracked combat vehicles, to ensure the OMFV has the speed, reliability, and maneuverability necessary to dominate in the toughest battlefield conditions. QinetiQ Limited's Modular E-X-Drive transmission has been tested and proven in a wide range of tracked vehicles and weight classes over the last decade.