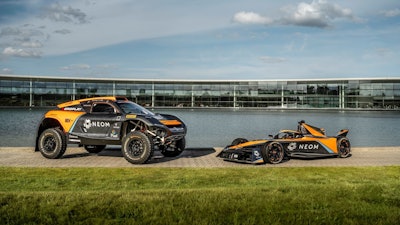 McLaren
NEOM announced today a strategic partnership with McLaren Racing to become the title partner of the McLaren Formula E and Extreme E racing teams, bringing two all-electric race series' together for the under the banner of 'NEOM McLaren Electric Racing.'
McLaren will collaborate with NEOM across multiple areas, becoming a founding partner of OXAGON, a city in NEOM that hopes to be the blueprint for the future of advanced and clean industries and a hub for innovation. McLaren will be located within OXAGON's Research and Innovation Campus, which is being designed by international architects, Grimshaw. The campus will provide facilities and collaboration spaces, accelerating ideas from labs to market.
"We are delighted to welcome NEOM to the McLaren Racing family. This is an incredible way to kick off our entry into Formula E and to unify our electric racing series. We are thrilled to introduce NEOM McLaren Electric Racing and to work with NEOM to nurture talent and drive innovation. Working with OXAGON will allow us to make meaningful contributions through our Accelerator program and assist with the development of advanced and clean industries," said McLaren CEO Zak Brown.
Additionally, through its Accelerator program, McLaren will lend its digital and analytical expertise as a technical partner of OXAGON's advanced and clean manufacturing ecosystem.
A further element to the partnership will be rolled out during 2023 when, in line with NEOM's commitment to developing Saudi talent, McLaren and NEOM will create a program to nurture engineers and students; 20 Saudi graduates from NEOM's Graduate Program will each take part in a one-year placement with McLaren Racing at the McLaren Technology Center in the United Kingdom.
NEOM is a region in northwest Saudi Arabia on the Red Sea being built from the ground up as a "living laboratory" and "a destination and a home for people who dream big and want to be part of building a new model for exceptional livability, creating thriving businesses and reinventing environmental conservation."