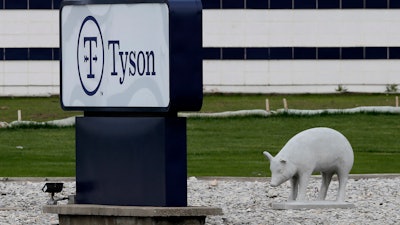 AP Photo/Charlie Neiberga
It's the litigation that just won't go away.
On Tuesday, food distribution giant Sysco filed a lawsuit complaint with the US District Court of Southern Texas accusing major US pork producers Tyson Foods, JBS USA, Smithfield Foods, Hormel Foods and others of collaborating in a price-fixing scheme ultimately aimed to increase prices.
The lawsuit alleges that an industry-wide conspiracy acted through laundering secret information through proprietary agricultural databases, in which "detailed, competitively sensitive and closely-guarded nonpublic" data was exchanged about "capacity, sales, volume and demand." That data allegedly concerned profits, prices, costs and production levels of specific companies — a method Sysco described as a classic way to implement and enforce a price-fixing scheme.
Due to those conspiracy actions, Sysco said it ultimately had to pay more for pork than it otherwise would have.
The suit alleges that the scheme went back to at least 2009. Sysco is seeking treble damages and a jury trial.
Sysco claims that the involved pork producers shared that information via Agri Stats Inc., saying that affiliates of Smithfield Foods, Clemens Family Corp. and Seaboard Corp. also took part. According to Sysco, the companies involved in the alleged pork price-fixing scheme control about 80 percent of the US wholesale pork market.
This newest complaint closely resembles a class-action suit by food distributors and foodservice providers and retailers last year that alleged price-fixing by many of these same pork producers. In October, a Minneapolis court ruled in favor of the plaintiffs and tentatively approved a $24.5 million settlement against JBS.
These same companies have been embroiled in a separate poultry price-fixing lawsuit, to which Tyson Foods settled for paying $221 million and Pilgrim's Pride was fined $108 million after a guilty plea.